Presti: Thunder are more prepared to handle Westbrook's absence
Sam Presti says the Thunder are more prepared this time to handle Russell Westbrook's absence, after it was announced he'd miss 4-6 weeks of the regular season.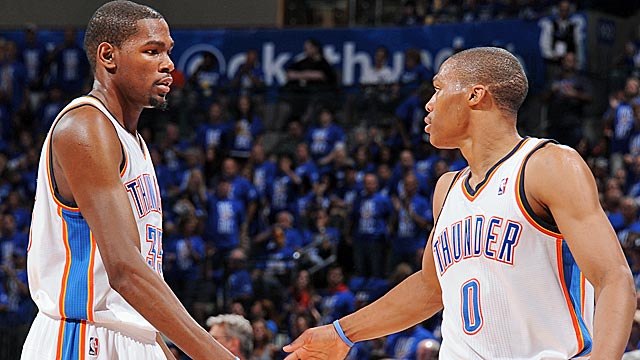 The Thunder have been through this already. And they learned a valuable lesson in the nine games without him:
The Thunder need Russell Westbrook. 
But for 4-6 weeks of the regular season, they're going to have to figure out all over again how to play without him. Because of swelling in his surgically repaired right knee, Westbrook underwent arthroscopic surgery which will cause him to miss a solid chunk of the regular season. 
Thunder general manager Sam Presti said it was because of a "loose stitch" that caused the inflammation and said the issue certainly was not all that common, calling it an "outlier" during a conference call Monday afternoon. 
"He's been great in the rehab," Presti said. "In fact, 'great' is probably an understatement."
Presti noted again that the procedure revealed his initial surgery was a success -- "I think the thing that's important to focus on is the surgery itself and the meniscus itself is healing properly," he said -- and that while unexpected, this surgery shouldn't have any kind of long-term impact on Westbrook.
"Although we lost a little bit of time, we gained a tremendous amount of confidence in the recovery and the knee itself," Presti said.
Westbrook's original surgery was in Vail, Colo., but Presti said that this one was performed in California. Presti said Westbrook is "obviously disappointed" but that he looks and feels great, and hasn't been experiencing any pain.
"As we work through this period, when Russell does come back and join us, he'll be as good as ever and the team will be better," Presti said.
Presti stressed the team is better prepared to handle missing Westbrook, having experienced it last postseason as well as having a full training camp and preseason schedule to sort it out. But with only two point guards on the roster now, it's apparent the Thunder will need to make a short-term move to help solidify the position some. There's Diante Garrett, who has been brought in for training camp, but if not him, it would seem a roster move  is needed. Though Presti was non-committal on that.
The Thunder already had plenty of questions about depth and bench coming in to this season anyway. Is Jeremy Lamb ready? Can Reggie Jackson be a sixth man? Who else can score? Now, without Westbrook, those issues are only amplified.
But keep in mind, we're talking about November and December here. The least important months of the NBA calendar. Presti has mentioned this time and again, but the focus of the team is not to be playing well Nov. 15, but to be playing at their best April 15. To get to that standard of performance, you use the entire season as a crock pot to let the recipe come together. But stressing over games early isn't the focus of the team. It's about constant improvement, so even though not having Westbrook might cost the Thunder wins, it may not impact their overall goal for the season.
Via Anthony Slater of NewsOK.com, said Kevin Durant: "Him not being out there with us, it's killing him. So we just got to encourage him ... I'm gonna call him after practice today and check in on him. That's my guy, I love him and I'm glad it was a successful surgery."
The weight of Westbrook's absence will once again fall on the shoulders of Jackson, but this time around, there's no Kevin Martin to fill in as the new secondary (or third) scorer. Lamb has had a lot of pressure placed on him this offseason as the organization expressed obvious confidence in him, but now, he's needed more than ever.
"He's ready," Durant said of Lamb. "I know he's ready."
Well, we're about to find out.
Show Comments
Hide Comments
Will Iggy stay in Golden State? Does anyone have any idea what to do with Derrick Rose?

Hoiberg was asked about Isaiah Thomas possibly carrying the ball during Game 5

Celtics point guard does not need anyone to hype up his defense
The Bulls had it, they had it ... and ... it's gone

The Bulls found they were without hot water following their Game 5 loss

Wall finished with 20 points and 14 assists in win over the Hawks