Prokhorov challenges Cuban to duel, weighs in on Dwight, D-Will
Nets owner Mikhail Prokhorov joked Tuesday that if Dallas Mavericks owner Mark Cuban signs Deron Williams this summer, he'll "crush him" in a "kickboxing throwdown." In the Russian billionaire's first U.S. media appearance in more than a year, he weighed in on the Nets' future and chances of bringing Williams with them to Brooklyn next season.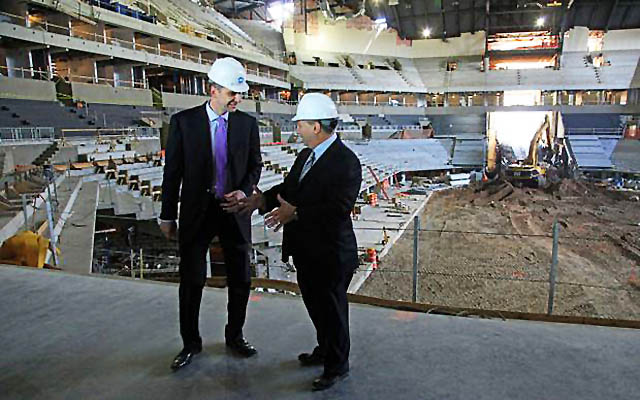 NEW YORK -- Mikhail Prokhorov uttered some big, witty words Tuesday in his first media appearance on American soil in more than a year. The most honest of those words? That the Nets, like their new arena in Brooklyn, remain "under construction."
And that they're going to need "a little bit of luck."
Actually, make that a lot.
Prokhorov, who has attended just one Nets game all season due to the political obligations of a failed bid to win the presidency of Russia, donned a hardhat and spoke in what will soon be the glorious, glass-enclosed atrium of the Barclays Center. In the process, he reaffirmed his prediction that the Nets will win a championship, denied allegations that he tampered with Magic center
Dwight Howard
and revealed that he met Monday with soon-to-be free agent All-Star
Deron Williams
, whose presence on the Nets team that opens the 2012-13 season in Brooklyn is far from assured.
After at first claiming that
NBA
rules forbid him from commenting on Williams' future -- which obviously isn't true -- Prokhorov lobbed a warning shot in the general direction of Dallas and fellow billionaire Mark Cuban, who is in the process of clearing the necessary cap room to steal Williams, who grew up in Dallas, from the Nets.
"Let the best man win," Prokhorov said of Cuban. "If he wins, I will
crush him in the kickboxing throwdown."
Laughs ensued all around, except the Nets' predicament is hardly a laughing matter.
Prokhorov's absentee ownership has produced a 45-95 record (.321) and failed bids to land free agents
LeBron James
and/or
Dwyane Wade
; 2011 trade target
Carmelo Anthony
; and now, Howard, who at least temporarily spurned the Nets by committing to the Magic for one more season. Next up is Williams, who has proclaimed his intention to opt out of his contract after the season and has yet to make up his mind whether to stay or go.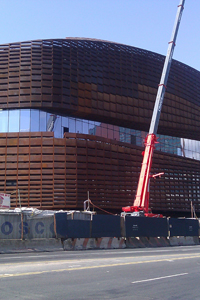 The Barclays Center takes shape in Brooklyn.
(CBSSports.com original)
"We met (Monday)," Prokhorov said. "We (had), I think, a very good discussion. He really wants to win and I want to win maybe even more. And really I won't go into details, but I think (at) this stage, we are on the same page. ... I think he wants to win and he wants to be part of a great franchise. So we have the same view on this."
Also in the meeting with Williams was team president Billy King, who along with coach Avery Johnson got an endorsement from Prokhorov Tuesday. King also declined to discuss details of the meeting.
"I think Billy and Avery are doing a great job," Prokhorov said. "We have a common view, not only on the day-to-day routine, but on our strategic goal. ... I hope next season will be much, much better than the previous two."
When asked about Howard's decision to stay in
Orlando
next season as opposed to seeking a trade to the Nets or joining the Brooklyn-bound franchise as a free agent this summer, Prokhorov used the opportunity to assert that a meeting in
Miami
last season with agent Dan Fegan was to discuss another of his clients, Nene -- and not Howard.
"I think every owner wants to have a great player," Prokhorov said. "... As soon as we have a legal opportunity for trading, we'll do our best to find the best pieces for our team."
As for his strategy to keep Williams, Prokhorov said, "Please wait for the summer. I'll tell you all the details. For the time being, it's top secret for us."
Prokhorov reiterated his prediction that he will bring a championship to Brooklyn, but added, "The Nets, like the arena, (are) still under construction. It's in the building stage." He referred to former majority owner Bruce Ratner as "my partner," and said, "We can do together a great miracle."
In addition to luck -- such as, for example, securing the No. 1 pick in the draft, and thus, Kentucky's Anthony Davis -- Prokhorov said the Nets "need to have a genius team."
Prokhorov did not, however, commit to spending more time in the United States -- much less Newark or Brooklyn -- and downplayed the importance of the owner being present for the day-to-day operations of the team.
"It doesn't matter whether I am in Moscow or here in
New York
because I watch nearly 80 percent of the games," Prokhorov said. "I read the stats from all the games and I have a lot of conversations with my people. So I think what is more important? It's not what you see. It's more important what is behind the scenes, the day-to-day routine and our strategic plans. And I am very committed and involved in the strategy process."
Prokhorov is in New York at least through the end of the week, with the NBA's Board of Governors set to formally approve the team's name change from
New Jersey Nets
to Brooklyn Nets in meetings Thursday and Friday in Manhattan. Just don't expect the Russian billionaire to buy a second home in New York City any time soon. Not at these prices.
"You know, it's a great question for me because for the time being, rich Russians are driving up the prices," Prokhorov said. "So it's not the best time to buy."
Remember when she taught Westbrook basketball? Neither does she

Wall says the Wiz are one player away and PG could fill that void in Washington

A look at who your favorite team can possibly acquire this summer in free agency
Unfortunately, Antoine Walker was not involved

The newly minted league MVP said he wanted to enjoy his big moment

Westbrook became the second player ever to average a triple double for an entire season.