Rajon Rondo returns to Celtics bench
Rajon Rondo has started sitting on the Celtics' bench to support his teammates as he recovers from ACL surgery.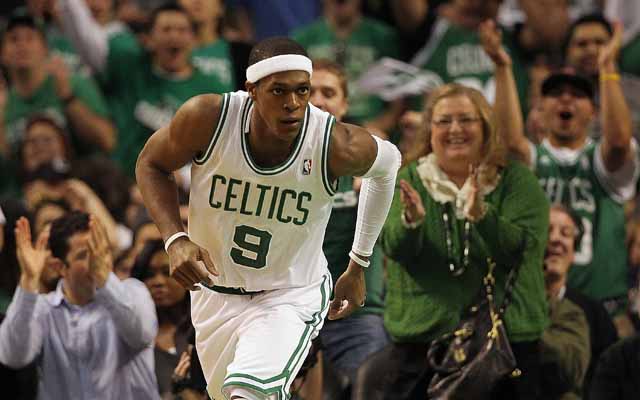 Rajon Rondo returned to the Celtics' bench this week during his recovery from ACL surgery, according to the Boston Herald: 
"I told him to just be nice today, and he was," said coach Doc Rivers, who drew a connection between the Celts' spirited play in the 118-107 win over the Hawks and Rondo's return.

"He told us today he was coming in, and it was good to have him back around," said Rivers. "He's moving OK. Having gone through that experience, we sat and talked about a lot of the stuff you have to go through. . . . I don't care who you are, especially if you're on a team sport, I think these types of injuries are very lonely. Very hard. Because rehab is all by yourself with some stranger. And you're away from your team. Just brutal rehab. That's what it is.'
via Rondo enjoys victory alongside mates | Boston Herald.
Rondo had talked optimistically about returning earlier than expected. And due to the absence of a prescribed return estimate, some fans thought he might make it back during the playoffs. That's a pipedream. No matter the severity of the tear, Rondo's surgery is still major surgery. The recovery time on that is significant, regardless of the toughness. 
That might honestly be the hardest part for Doc Rivers, trying to get Rondo not to return earlier than expected. Every athlete deals with injuries differently, and they have a right to. Derrick Rose has been especially patient. It's unlikely Rondo will be so willing. 
HT: SI.com
Show Comments
Hide Comments
Celtics will have plenty of tough decisions to make going forward

The defending champs seem pretty relaxed ahead of the NBA Finals

The commissioner's infamous veto of the Paul trade could have been different
Warriors are intent on keeping a mind like Jerry West around

LaVar has always been proud of his son, which Magic says isn't a problem as long as it doesn't...

Curry was cookin' on the pan and stole the show when she took over the mic