Rajon Rondo suffers torn ACL, out for the season
Boston Celtics guard Rajon Rondo suffers torn ACL and will likely miss the rest of the season.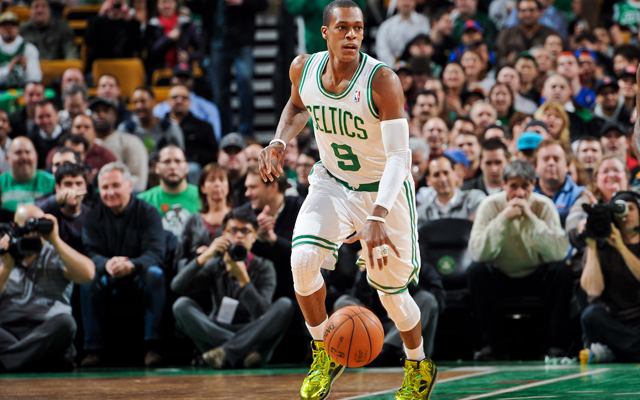 Rondo suffered a torn ACL Friday.
(Getty Images)
When Rajon Rondo was ruled out of Sunday's game vs. the Heat, rumors started to percolate that the Celtics were concerned about a possible ACL tear. Rondo returned from an MRI performed at a local hospital, and the Celtics confirmed he suffered a torn ACL.
Ken Berger of CBSSports.com confirms he's out for the year. Typical recovery for an ACL tear depending on severity can be between 8 and 12 months.
Rondo was averaging 13.7 points and 11.1 assists and was shooting 48 percent, leading the league in nearly every assist-related category. He was named as an All-Star starter for his fourth appearance and is considered Boston's best player.
With the Celtics under .500 and struggling mightily, trade rumors are sure to increase as Danny Ainge faces the very real possibility of needing to blow the team up.
Rondo apparently suffered the injury Friday vs. the Atlanta Hawks. 
After the game, Doc Rivers dropped an all-time soundbyte, saying to the media, "You can write the obituary. I'm not." 
Kevin Garnett told Rondo not to try and rush back and to "take care of himself." 
Paul Pierce decided to take the "other guys can step up with more minutes" route. 
The team was not told pre-game, despite Doc Rivers knowing. Paul Pierce was informed in a post-game interview by ESPN's Doris Burke, the rest of the team in the locker room in what was obviously an emotional scene. 
This post will update with more information.
Show Comments
Hide Comments
The two best point guards in the East go at it in a series sure to be filled with drama.

Breaking down key matchups as the second season reaches the conference semifinal series

The second round of the 2017 NBA Playoffs tips off Sunday at 1 p.m. ET, with Game 1 of Cel...
The Spurs have homecourt advantage, and will host Game 1 Monday night at 9:30 p.m. ET

All-Star guard flew to Washington after Game 6 vs. Bulls to attend his sister's funeral Sa...

Some love for the Rockets over the Spurs, and at least one expert says the Cavs are going...