Raptors, Clippers lead in playoff ticket price, according to 'Forbes'
The Raptors lead the league in first-round playoff ticket price, followed by the Clippers.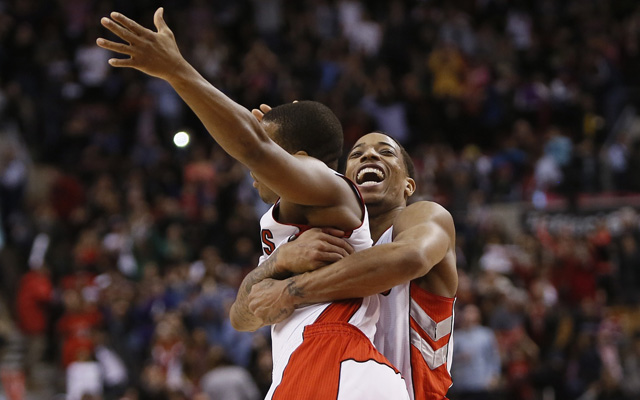 More NBA: Power Rankings | Expert Picks | Latest news, notes
A study from Forbes Magazine reveals that, surprisingly, the Raptors have the highest average ticket price for their first-round series, followed by the Los Angeles Clippers. The lowest? The Grizzlies and Wizards.
According to data from TiqIQ, Clippers playoff tickets have an average price of $370 for their first round match-up. If the season ended today, the first-round opponent for the Clippers would be the Warriors, who have the second-highest average ticket price for round one. 

This year, the Grizzlies have the cheapest first-round series with an average of $129. The next cheapest tickets are for the Wizards, who have an average price of $145 for their first playoff appearance in six years. Wizards playoff tickets have a 115% premium compared to their regular season average price. That compared to a 108% premium for the Grizzlies tickets.

The average premium compared to the regular season average price across the sixteen teams that will play this post-season is 105%. The two highest premiums for the post-season are Pacers tickets and Raptors tickets, at 211% and 242% respectively. The Raptors not only have the highest premium of any team in the playoffs, but also the highest ticket price.  They also have the 3rd lowest quantity on the secondary market, with just 2,261 tickets available across the secondary market. 
via Clippers Have Most Expensive Round One NBA Playoff Tickets...South Of The Border.
There are some interesting dynamics here. The Spurs are the third-lowest on the list, despite four titles and reaching the Finals last year. You'd think that was a market issue, but the Bobcats and Thunder are in the top five.
Memphis isn't surprising for a number of reasons. Washington is a little surprising based on market and the team being the 5-seed, but the Washington Post reported earlier this week on the fans not being excited.
Also... how are the Nets so far down on this list? This is the hot team, with the big payroll, in the fancy new arena? The Nets are ninth on that list.
Either way, good for Toronto! They're really excited about this team!
Show Comments
Hide Comments
And Grizzlies coach David Fizdale didn't exactly disagree

Toronto survives, but struggles to do so

San Antonio will face the Houston Rockets in the second round
The 40-year-old is coming up big in the playoffs

Toronto eliminated Milwaukee in Game 6 on Thursday

Surgery is to "repair core muscle-related injuries"