Raptors trade Gary Forbes, draft pick for Rockets PG Kyle Lowry
Rockets trade PG Kyle Lowry for draft pick.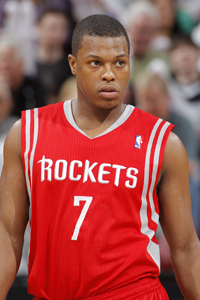 Kyle Lowry will be a Raptor after a trade from Houston.
(Getty Images)
Ken Berger confirms an ESPN and Houston Chronicle report that the Toronto Raptors are "on the verge" of a trade for Houston PG Kyle Lowry. Multiple reports indicate that the trade will include a protected first-round pick with "high" upside for Houston. 
The Chronicle also reports that forward Gary Forbes will go to Houston and that the pick is protected to ensure it is neither too high for the Raptors to give up or too low for the Rockets to take. 
In May, Lowry expressed displeasure with playing for coach Kevin McHale and without saying as much requested a trade publicly. The Rockets are reportedly offering Jeremy Lin a sizeable offer as a replacement point guard, which the Knicks have reportedly indicated they will match. Reserve point guard Goran Dragic agreed to terms with the Phoenix Suns Wednesday night. 
Lowry immediately gives the Raptors a major upgrade at point guard, able to score and distribute, and allows them to either amnesty Jose Calderon to clear cap space or trade the veteran shooting point guard. There will be several interested teams if he were to hit the market, though the Lakers were considered such a party prior to the trade for Steve Nash. 
Houston loses its nearest thing to an All-Star, and as a consequence, maybe their biggest trade chip for Dwight Howard. Lowry averaged 14 points and 7 assists last season, but saw his shooting percentage drop to just 41 percent, partially impacted by an abdominal infection that sidelined him for most of the last two months of the season. 
Lowry gives the Raptors a point guard who can create offense, defend, and worked to become a better outside shooter. He's also on an incredibly reasonable contract that will pay him roughly $12 million over two years, but with only $5.7 million of that guaranteed, all in 2013.
So the Raptors got a talented, near-All-Star point guard on a reasonable, non-cap-killing contract and all for just a first-rounder, that has protections on it which are yet to be released. Not bad after a pretty disastrous week for Bryan Colangelo. The Rockets gave up their starting point guard and arguably their best player for very little. Welcome to the 2012 NBA offseason.
Show Comments
Hide Comments
Thunder fans used the term 'cupcake' in reference to Durant after he left OKC in free agen...

There appeared to be some wishful thinking on the part of Charlotte general manager Rich C...

Thompson is one of the best shooters in the league, but it appears dunking isn't his speci...
Cuban was willing to part ways with employees who leaked ahead of the official announcemen...

Draymond wasn't mad about the move, though. He was mad about the way he heard about it

All-Star forward was sent from the Bulls to the Timberwolves on draft night