Rashard Lewis joins ex-teammate Allen in signing with Heat
With a championship already in hand and an offseason addition of Ray Allen already done, the Miami Heat are closed on another big commitment as Rashard Lewis has siged with the Heat.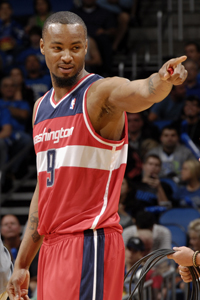 The Heat got another veteran discount with Rashard Lewis.
(Getty Images)
The rich are getting a little richer.
With a championship already in hand and an offseason addition of Ray Allen already done, the Miami Heat closed in on another major commitment as Rashard Lewis has signed with the Heat.
He was also reportedly considering the Knicks and Hawks.
Lewis, 32, spent last season with the Wizards enduring one of his worst seasons as a professional. In 28 appearances with Washington, Lewis averaged only 7.8 points and 3.9 rebounds while shooting only 23.9 percent from 3. He dealt with knee issues for most of the season.
The deal would be for two years, with the second being a player option. All the Heat can offer is a veteran minimum salary, which would be for $1.35 million a year.
Lewis recently agreed to a $13.7 million buyout with the Hornets after he was traded to New Orleans. That large sum likely aided in him taking a paycut to sign for the minimum with the Heat.
One impact it could have is the Lewis signing potentially take the Heat out of the Grant Hill running.
Is he a game-changing player? No, but in terms of a low cost veteran off the bench, he's certainly a quality addition. The Heat are able to grab discounts from players and as Ray Allen showed and now Lewis after him, taking less to compete for a trophy is very intriguing to veterans.
Lewis is a rangy 6-10 shooter that is a career 38.8 percent 3-point shooter. And as everyone saw in the NBA Finals, having 3-point marksmen on the perimeter makes Miami an extremely difficult team to guard. Plus, Erik Spoelstra has expressed a desire to remain with a smaller lineup on the floor and Lewis adds to that versatility. He can stretch between two, and even three positions depending on matchups.
The question is his health and how he can hold up after playing for 14 NBA seasons. But he's likely to be as motivated as ever latching on to the Miami bandwagon.
Show Comments
Hide Comments
Barclays Center hosted the BIG3's inaugural slate of games on Sunday, with The Answer as a...

Pierce was drafted 10th overall by the Celtics in the 1998 NBA Draft

Paul George would go to the Cavs, while Kevin Love would make his way to the Nuggets in this...
Greece was the last team to beat the U.S.

Embiid hasn't played much due to injuiries, but the 76ers are sold on his potential

This appears to be a move that will give Dallas some cap flexibility