Ray Allen, Chris Andersen gametime decisions for Game 5 vs. Pacers
Heat guard battling hip issue, forward/center could miss second game with thigh bruise.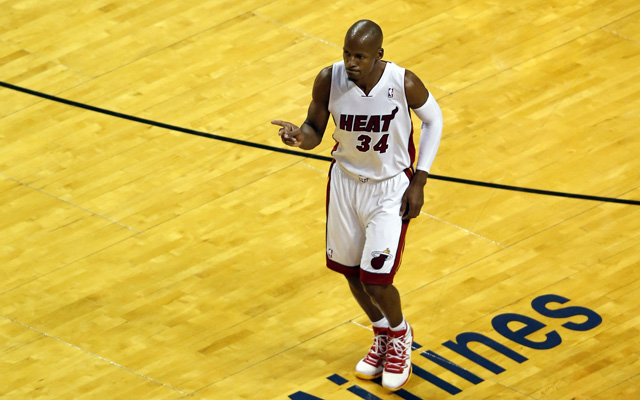 More postseason coverage: Playoff schedule, results | Latest news, notes
Ray Allen and Chris Andersen both missed shootaround for the Miami Heat on Wednesday before Game 5 of the Eastern Conference Finals in Indianapolis and are gametime decisions for Game 5 vs. the Pacers. 
"Birdman" Andersen missed Game 4 with a thigh injury after being kneed by Dwyane Wade in Game 3. Allen has a hip issue that could keep him out. Allen is the much bigger issue for the Heat as they try and close out the Pacers in five games, entering Wednesday up 3-1 after Monday's 102-90 win in Miami. 
Allen has been critical for the Heat in this series, not only for his usual crack three-point shooting but his ball handling and shot creation. Andersen on the other hand has had moments, but the Heat's best success has come with their small ball lineups. If Allen can't play, the Miami Herald says that James Jones is the next likely shooter off the bench.
Game 5 tips Wednesday at 8:30 p.m. ET at Bankers Life Fieldhouse. Follow the action here.
Show Comments
Hide Comments
Toronto eliminated Milwaukee in Game 6 on Thursday

Surgery is to "repair core muscle-related injuries"

Somehow, the Celtics have become a significantly better defensive team with Thomas on the...
Will Iggy stay with Golden State? Does anyone have any idea what to do with Derrick Rose?

Hoiberg was asked about Isaiah Thomas possibly carrying the ball during Game 5

Celtics point guard does not need anyone to hype up his defense