Ray Allen sounds reluctant to return for another season
Comments reveal future Hall of Fame guard may be done with playing.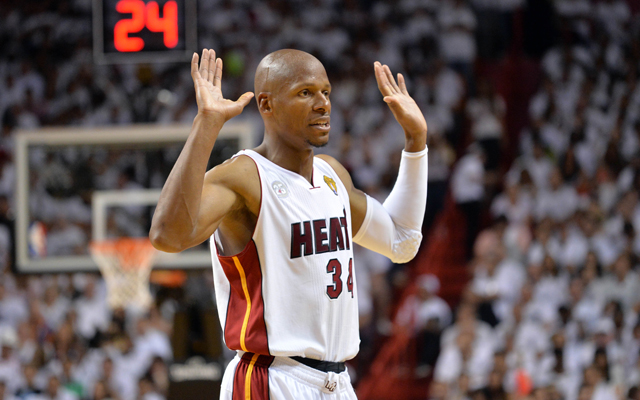 Offseason: Free Agency | Latest from Ken Berger | Rumors
Miami Heat free agent guard Ray Allen is taking his sweet time deciding whether to come back for another season. In an interview with The Courant, Allen said his only real argument for coming back to play another season is that he can.
"To continue playing, really, the only argument is I can because I'm in great shape," Allen said. "But just because you can doesn't mean you have to. Many people over these last couple of weeks have lobbied for me to continue to play. … My argument for not playing is, I have done a significant amount in my career and I appreciate everything that has come my way and as I've gotten older, I'm 39, there are so many things in life I want to be able to do to affect change — like being around kids full time, which I enjoy.

"So at this point I just feel so good about where I am."
via Ray Allen In No Hurry To Make Decision - Courant.com.
That does not sound like a guy who wants to play again. That sounds like a guy who has a hard time imagining not playing.
But Allen does have time. He can wait until after training camp and preseason. He can wait until after the start of the season, he can wait until a playoff push. It's really up to him. And he can even take a year off if he wants; that's how good of a condition he's in.
I asked Allen during the Finals if he planned on keeping up with his conditioning after he retired.
"I always say when you play in sports, there are two things that happen to you. You get so tired of it that you let go; you say 'I don't have to work out anymore, I don't have anybody hovering over me making sure my body fat is a certain way or saying I have to run suicides.'
"And then there are those that afterwards you take it to the next level because you've learned so many valuable things. I think I have learned so much having a son with diabetes; I've always been a pretty good leader, that dials it in even more. I see such a great future in helping other people with their health to improve who they are and making a difference that way."
So Allen clearly has had ideas about what he's going to do after he's done, and now he's in that space where he's looking at not having anyone to tell him to run suicides. IF he comes back, it'll be on his terms. But looking at those comments, it doesn't sound like the fire for him to return after two titles is still there.
Show Comments
Hide Comments
Green heckled Harkless over his reluctance to take 3-pointers

Durant missed Games 2 and 3 with a calf strain

The Atlanta fanbase appears ready to go for Game 4
Ibaka struggled during Games 3 and 4 in Milwaukee

For the first time, the NBA will be holding an awards show after the season

The Pacers president was there to deliver Indiana's bid for the 2021 All-Star Game