Reactions to LeBron James' career-high 61-point explosion
Adrian Peterson and NBA players reacted to an incredible performance from LeBron James.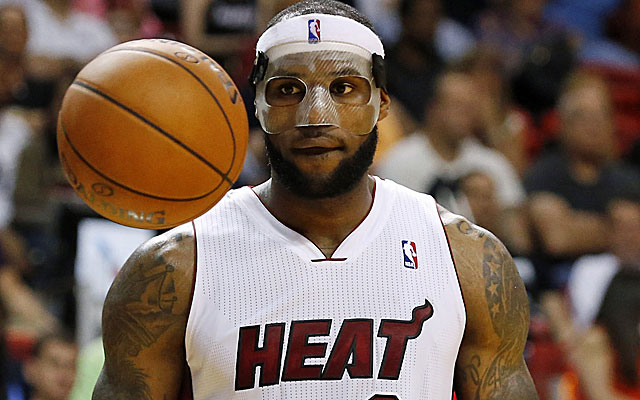 More: LeBron scores 61 | LBJ shows efficiency | MVP impact? | Heat beat Bobcats
LeBron James put on a show in South Beach on Monday, exploding for a career-high 61 points on an incredible 22-33 shooting against the Bobcats.
It was the kind of performance that is impossible to ignore, and gets the entire sports world talking. Here are some of the best reactions on Twitter from LeBron's dominating night:
Mask or no mask, that boy a BEAST!! #ISeeYou @KingJames

— Adrian Peterson (@AdrianPeterson) March 4, 2014
Congratulations to @KingJames with 61 amazing points & electrifying the @AAarena crowd #TheGreatestShowOnEarth #LetsGoHeat

— Micky Arison (@MickyArison) March 4, 2014
Bron 61 crazy!

— DeJuan Blair (@DeJuan45) March 4, 2014
Pulled a Roger Maris huh...

— Andre Iguodala (@andre) March 4, 2014
damn @KingJames 61 is tough. Congrats.

— Roy Hibbert (@Hoya2aPacer) March 4, 2014
Born Bron just went crazy 61 tho??!!!

— Ricky Ledo (@REALRICKLEDO1) March 4, 2014
Damn @KingJames !!!

— Damien Wilkins (@dwilkins3000) March 4, 2014
Show Comments
Hide Comments
The final Game 7 of the first round will tip off at 3:30 p.m. ET

Game 1 of the second-round series between the Celtics and Wizards tips off at 1 p.m. ET on...

The two best point guards in the East go at it in a series sure to be filled with drama.
Breaking down key matchups as the second season reaches the conference semifinal series

The second round of the 2017 NBA Playoffs tips off Sunday at 1 p.m. ET, with Game 1 of Cel...

The Spurs have homecourt advantage, and will host Game 1 Monday night at 9:30 p.m. ET