Read between the lines, and the Cavs trading Kevin Love is on the table
There have been no serious trade talks reported, but there are indications in the wake of the firing of David Blatt that Cleveland could look to move Kevin Love at some point.
Hey, can we back up for a second? I need to go back and look at something with you all. See, when David Blatt was fired on Friday, it was basically mass chaos on the internet. Immediately a flood of stories started coming in to reflect the insanity that is the 31-win best team in the Eastern Conference firing their coach who took them to the Finals last year, halfway through the season. It was a flurry of narratives and anecdotes and tales of discord. 
In the middle of that and Tyronn Lue's ascension as the coach of the mighty Cavaliers, this tweet kind of slipped through the cracks, and it's a really big deal. 
How surprised were Cavs players today? When team meeting was called, some players speculated Kevin Love had been traded

— Brian Windhorst (@WindhorstESPN) January 22, 2016
Wait, what?
There's been speculation for weeks that the Cavaliers might look to trade Love, since it appears that he cannot function effectively with Kyrie Irving, and they're not trading Kyrie Irving. (Though I believe that should probably be on the table as well.) Love has gotten three fewer possessions per game since Irving returned, according to Synergy Sports, which doesn't sound like a lot but is actually substantial, and his points per possession have dropped from 0.991 to 0.883, which again, is significant. 
However, for the players to actually think that it was him being traded? That's a really strong indication that Love could in fact be on the move. The Cavaliers have been putting off noise through media that they have no intention of trading Love, but either the players think it might be the right move, or it might be a likely move. That's the only reason for them to immediately go there as a reason for the meeting. 
The Cavaliers lost in embarrassing fashion to the Bulls on Saturday night, and when you consider that result, the fact that the trade deadline is less than a month away, and that the Cavs are so urgent in trying to get this team from "pretty good" to "great" as GM David Griffin put it, you have to wonder if more moves are coming. 
Consider this, as well, also from ESPN:
 
According to a team source, Blatt firing means "everyone is in the crosshairs right now." Pressure only mounts from here for Cavs.

— Dave McMenamin (@mcten) January 22, 2016
The Cavaliers are serious about winning a title, and the humiliating loss to the Warriors seems to have shown them how far they are from that goal. If things don't turn around under Lue, and fast, it can no longer be considered a surprise if the Cavaliers trade Love, even if there have yet to be any reports of substantive talks between the Cavs and a prospective target.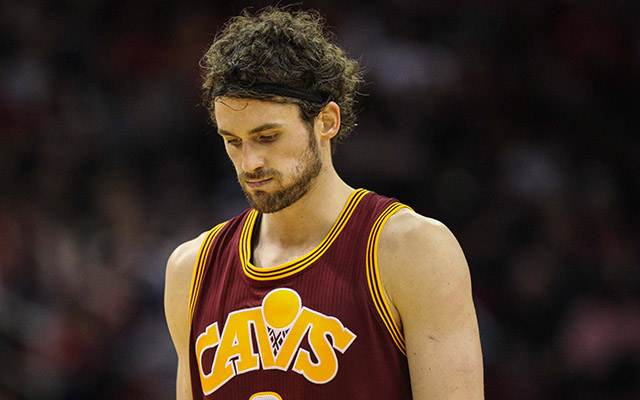 Show Comments
Hide Comments
Our Latest Stories
According to the Seton Hall Sports Poll, LeBron is a better pitchman than Steph

Cleveland's superstar said he was 'surprised' that the Heat were moving on

Public service announcement: 'Points guard' is not a real position
Porzingis says his ballhandling skills has improved after his rookie season

The Chicago star wants to be an example for his teammates

The guard wants to play until he's 40