Report: Al Harrington is close to signing a one-year deal with Wizards
The Washington Wizards and Al Harrington are reportedly close to signing a one-year, minimum deal for the recently bought out forward.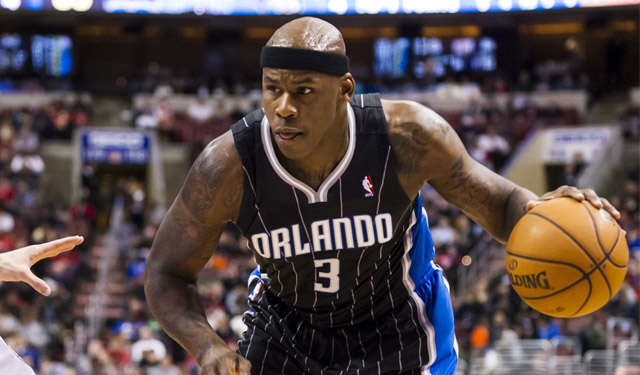 With a fair number of teams in the East looking like they'd rather build for the future than make the 2014 NBA playoffs, the Washington Wizards are in a great position to vie for the 8th seed in the Eastern Conference this season. Even though they only won 29 games last season, they looked very promising once John Wall returned from a knee injury. An anemic offense got some much-needed punch and the Wizards were a tough hurdle to jump during the second half.
The Wizards used the combination of a young backcourt with John Wall and Bradley Beal along with veterans to help the team excel defensively to become the competitive team we saw over the final 50 games. Adding some scoring pop to the roster could put them over the top and give them their first playoff berth since 2008. According to Michael Lee of the Washington Post, Al Harrington might be joining the roster soon on a one-year deal.
The desires of John Wall and Coach Randy Wittman to add a power forward who can stretch the floor from the perimeter may soon be met. According to multiple sources with knowledge of the situation, veteran free agent big man Al Harrington will arrive in Washington on Tuesday for a physical and is "close" to signing a one-year deal for veterans minimum of $1.4 million with the Wizards.
Harrington isn't anybody that's going to take this team from being a middling team to a playoff berth, but the added scoring touch is much-needed for this group. At this point in his career, Harrington is a stretch-4 and floor spacing could be huge for the Wizards this season. 
Last year, they were the worst offensive team in the NBA. They scored just 97.8 points per 100 possessions for the season. This is mostly due to them looking historically bad before John Wall returned to the lineup. With Wall on the floor, the team posted a 102.1 offensive rating. For the season, that would have made the Wizards the 18th best offensive team in the league, which isn't great but it also isn't a pathetic output like they were previously showing.
Harrington is a somewhat respectable 3-point shooter for his career (35.2 percent), but he's also had some pretty ineffective years behind the arc. Mostly, they just need him to be a threat on the perimeter that makes the second unit a little more spacious and spread out. If he can provide that as the fourth big man in the rotation, it could help the Wizards sneak back into the playoffs.
Show Comments
Hide Comments
Memphis can still grind out these victories

The Warriors erased Portland's lead in the blink of an eye

Memphis' franchise center made franchise history
How to watch the first-round series between San Antonio and Memphis

The Thunder and Celtics each picked up their first wins Friday night

Series are starting to take shape