Report: Al Harrington signs with Chinese team
Free agent forward Al Harrington is reportedly joining the Fujian Sturgeons of the CBA.
• 1 min read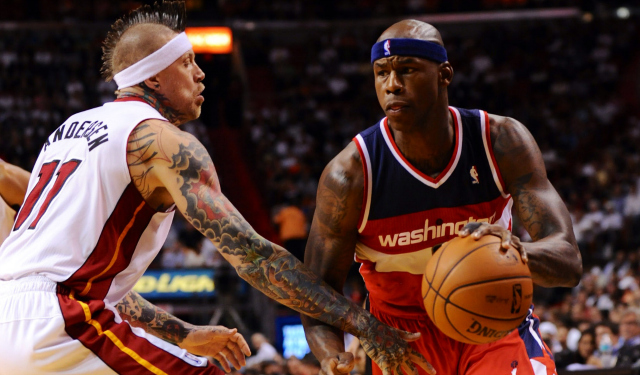 Offseason: Free Agency | Latest from Ken Berger | Rumors
It's the time of the NBA offseason where free agents who haven't found a home start heading overseas. A couple of days ago, guard MarShon Brooks decided to go to Olimpia Milano. Now, forward Al Harrington has signed a contract with the Fujian Sturgeons of the Chinese Basketball Association, with an official announcement coming Monday, according to Bleacher Report's Jared Zwerling.
Al Harrington's Chinese team will be the Fujian SBS Xunxing Sturgeons. One-year deal.

— Jared Zwerling (@JaredZwerling) August 10, 2014
Harrington still wants to coach with the Washington Wizards after he's done playing, according to Zwerling. At summer league in Las Vegas last month, he served as a Wizards assistant coach.
The 34-year-old told the Washington Post's Dan Steinberg earlier in the summer that he wanted to be a part of building on last year's success and "I don't see myself playing anywhere else." Harrington averaged 6.6 points and 2.4 rebounds per game for the Wizards last year, shooting 34 percent from 3-point range. 
Washington presumably didn't want to give another roster spot to a frontcourt player, after adding Kris Humphries and DeJuan Blair while retaining Marcin Gortat, Drew Gooden and Kevin Seraphin. Paul Pierce could also spend some time as a stretch four, like he did last season, as could sophomore Otto Porter.
No word yet on whether or not Harrington will change his name when he gets to China, like his former teammate Metta World Peace, or "The Panda's Friend."
Cleveland is one of Rose's biggest suitors, and the Irving situation could lead to an even...

Five years later and Celtics fans continue to throw shade -- Allen later deleted the comme...

Irving has a desire to team up with Butler dating back to June
Apparently, Irving first asked to be traded in June in hopes of joining Jimmy Butler in Ch...

Despite Melo being a good trade piece for the Knicks on paper, he has his sights set on joining...

Kyrie is reportedly open to leaving Cleveland, and New York is among his top choices to be...