Report: Allen Iverson to officially announce retirement from NBA
Roughly three years after playing in his final NBA game, Allen Iverson will reportedly retire from the NBA at the end of this month.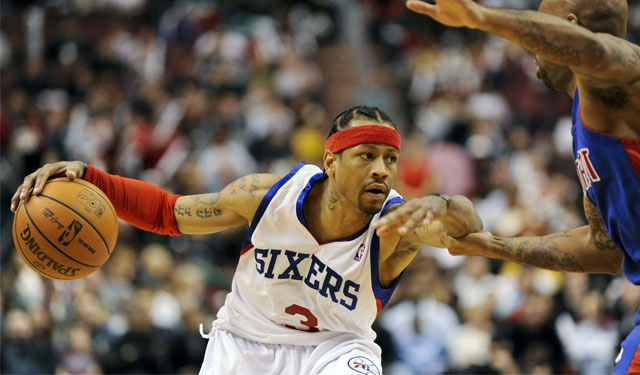 Back in September, Allen Iverson was rumored to be ready to officially retire from his NBA career. Even though he hasn't played a game since the 2009-10, Iverson has occasionally talked about comeback attempts to revive a once proud and storied career. Those attempts never materialized and it left Iverson on the outside looking in as he entered his late 30s. 
According to David Aldridge of NBA.com, it looks like the end of this month will be when Iverson finally hangs up his Reeboks and officially heads off into the retirement sunset. The Philadelphia 76ers are also supposedly looking into a post-playing position within the organization for Iverson, keeping him linked to the team he was a part of for nearly 11 full seasons. 
The long, illustrious, controversial career of Allen Iverson appears finally to be coming to an end. The 11-time All-Star is expected to finally and formally announce his retirement in Philadelphia at the end of the month, according to league sources.

Rumors that Iverson was ready to retire were rampant in September, but the 38-year-old guard never made a formal announcement. But sources say that the official announcement is scheduled for Oct. 30, the day after the NBA's regular season begins, when the 76ers play their home opener against Miami.

In addition, sources indicate that the organization may be discussing some kind of post-playing position for Iverson. Though he wouldn't be expected to have input with the current coaching staff, Iverson could travel with the team on occasional road trips.
The accomplishments from Iverson's career are plentiful. He won the league's Rookie of the Year award in 1996 and the MVP award back in 2001. He made three All-NBA First teams in his career, three All-NBA Second teams, and an All-NBA Third team. Iverson was an 11-time All-Star and made the team every season from 2000 to 2010. 
He currently ranks 19th in all-time scoring at 24,368 points and has the sixth biggest scoring average in NBA history at 26.7 points. Iverson's 14-year career gave us some of the most memorable moments both on and off the court. 
Show Comments
Hide Comments
Utah couldn't clinch at home, and the Clippers live another day

The Celtics coach appeared to be upset when the chants broke out

Cleveland will host Toronto on Monday
Boston will host Washington on Sunday

Nothing can happen until Cleveland's season is over, however