Report: Andrew Bynum wouldn't stop shooting in practice with Cavs
Andrew Bynum reportedly wouldn't stop shooting the ball every time he got it in practice with the Cavaliers, which ended his time there.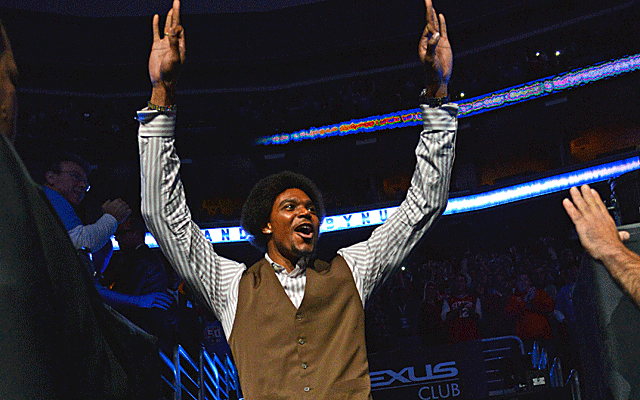 It seems like a decade since Andrew Bynum has been anything but a punchline in NBA conversations. We've discussed the peculiar hairstyle choices, his injury that happened when he was bowling, and the 3-pointer he took as a member of the Los Angeles Lakers under Mike Brown. Apparently, his shooting exploits with the Lakers carried over to his time this season under coach Brown when he was a member of the Cleveland Cavaliers.
The Cavs' Bynum experiment only lasted a few months, with the center eventually being kicked out of practice, removed from the team, and eventually traded to the Chicago Bulls, who promptly waived his non fully guaranteed contract. What was the final straw with Bynum in Cleveland? It turns out he felt Brown was still giving him a green light that was being passed his way. From Adrian Wojnarowski at Yahoo Sports:
Only Bynum never made it to the early January guarantee date for his full $12.5 million salary in 2013-14, and self-destructed. He stopped trying on the floor, and became a disruptive presence in practices. Before Bynum was thrown out of his final practice and suspended, he was shooting the ball every time he touched it in a practice scrimmage, sources said – from whatever remote part of the court he had caught the ball.
Perhaps Eddie House is the spirit guide of Bynum?
This definitely sounds like a guy who just stopped caring about what his role with the team was supposed to be and decided to act out for whatever reason. Maybe it's a lack of respect for Brown as a coach, considering this is the second time in a couple of years he's done something along these lines? Maybe it's just not wanting to take the NBA profession as a serious job anymore? Maybe it's a cry for help that stems from seeing a big man like Chris Bosh being allowed to shoot from the outside?
Whatever it is, Bynum will have to cut it out if he wants to fit in with the Indiana Pacers, the team that picked him up after the Bulls waived him. I can't imagine the organization will be asking him to shoot the ball in practice in the same manner as they prepare for a run at the 2014 NBA title. 
Show Comments
Hide Comments
Our Latest Stories
And the good times roll for Golden State

The Celtics, not the champion Cavs, get the Eastern Conference's top seed; Warriors in Wes...

Since Kevin Durant went down, Iguodala has been the Warriors' best player, and he was terrific...
The No. 1 overall pick alley-oops off the glass to himself in spectacular fashion

Harden, Rockets make an MVP statement on Sunday