Report: Bobcats narrow search to three
The Charlotte Bobcats have reportedly narrowed their coaching search to three candidates: Jerry Sloan, Brian Shaw and Quin Snyder.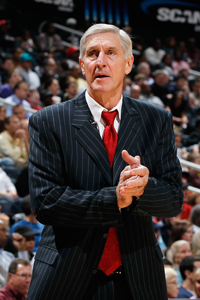 Jerry Sloan could be the next Bobcats coach.
(Getty Images)
The
Bobcats
 have narrowed their coaching search to three, according to the
Charlotte Observer
 and ESPN:
The Charlotte Bobcats have narrowed their list of head coaching candidates to Jerry Sloan, Brian Shaw and Quin Snyder, according to league sources.

After going through an initial interview with Charlotte executives Rod Higgins and Rich Cho, each of the three candidates will meet with Bobcats owner Michael Jordan within the next week or so.

Shaw will interview with Jordan Thursday, sources said.
via Sources -- Jerry Sloan, Brian Shaw, Quin Snyder are finalists for Charlotte Bobcats coaching job - ESPN.

The three represent very different approaches. Sloan obviously represents a traditional disciplinarian approach and would bring in the same kind of system he developed in Utah. Shaw is considered a player's coach, mostly because, you know, he was a player. Shaw was the preferred coach of the Lakers' roster before management went with Mike Brown. Snyder worked under Brown last season and under Doug Collins in Philadelphia the year before. Snyder's speciality is player development, having worked in that capacity for the Sixers and before that for the Spurs' system as head coach of the Austin Toros in the D-League. 

Snyder may be the best fit for the club with his development background and relative anonymity. Expectations would be low and Snyder has shown a capacity to get the most out of young rosters. But his experience is the question mark there. The last time Snyder was a head coach outside of the Toros was in the NCAA with Missouri. That did not end well.

The idea that Sloan could coach for Michael Jordan's team is a little disorienting. But his pick-and-roll centric offense could do wonders with whoever they land in the draft. It's an interesting debate for Jordan and company. 
Irving has a desire to team up with Butler dating back to June

Apparently, Irving first asked to be traded in June in hopes of joining Jimmy Butler in Ch...

Despite Melo being a good trade piece for the Knicks on paper, he has his sights set on joining...
Kyrie is reportedly open to leaving Cleveland, and New York is among his top choices to be...

It appears Wall will be staying in Washington for a long time

Apparently James wasn't aware that Kyrie was considering a change of scenery