Report: Bogdan Bogdanovic will delay NBA debut, gives Suns cap room
First round pick of the Phoenix Suns Bogdan Bogdanovic will reportedly not come over to the NBA this season, giving the Suns more flexibility.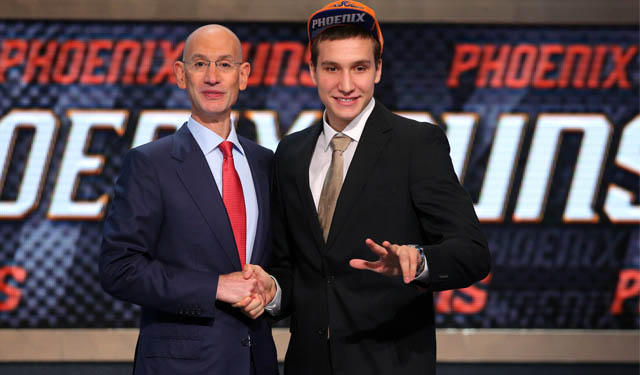 More Offseason Analysis: Coaching changes, news | Free Agency | Draft
The Phoenix Suns are trying to manage their flexibility with the roster and available cap space to put themselves in position to acquire a big name player, either in free agency or in a trade. After having three first round picks in the 2014 NBA Draft, every little bit matters in terms of carving out that cap sapce. The 27th pick, Bogdan Bogdanovic out of Serbia, will reportedly help them keep that flexibility. 
Mark Deeks, the NBA cap guru behind ShamSports.com, is reporting the Suns and Bogdanovic have agreed in writing that the Serbian shooting guard won't join the Suns this season. This relieves them of the cap hold his rookie contract holds for the 2014-15 season. 
Suns and Bogdan Bogdanovic have agreed in writing that he will not join this season, therefore his cap hold for the 2015 season is expunged.

— Mark Deeks (@MarkDeeksNBA) July 10, 2014
Bogdanovic's cap hold for 2014-15 is $930,500 for the Suns, meaning they can't use that available money in their salary cap room unless he agrees not to come over to the NBA this season. The Suns still have to re-sign Eric Bledsoe, who is a restricted free agent, and he could command a max contract that would start around $14.7 million this season. With the 14th pick T.J. Warren and the 18th pick Tyler Ennis signed, the Suns would have about $32 million in cap space to use before the Bledsoe deal.
The Suns could be major players if they strike out on Carmelo Anthony and LeBron James, and turn their attention to a trade for Kevin Love.
Show Comments
Hide Comments
Cuban was willing to part ways with employees who leaked ahead of the official announcemen...

Draymond wasn't mad about the move, though. He was mad about the way he heard about it

All-Star forward was sent from the Bulls to the Timberwolves on draft night
It's not so much who Boston took, but who it didn't take

Former Bulls star was venting after being traded to the Timberwolves

Phoenix Suns' top pick was a bit off the mark with ceremonial first pitch at Diamondbacks...