Report: Bulls 'gauging interest' with Dwyane Wade
Could Dwyane Wade also head home?
• 1 min read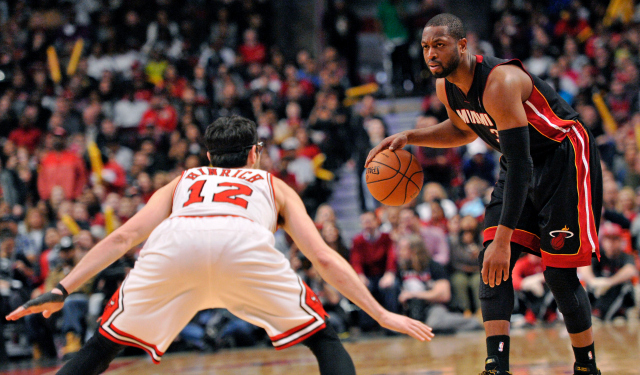 More Offseason Analysis: Coaching changes, news | Free Agency | Draft
The Chicago Bulls are "gauging interest" with free agent Dwyane Wade, according to Yahoo Sports' Adrian Wojnarowski. With LeBron James going back to Cleveland, Chris Bosh perhaps heading to Texas, could the Miami Heat end up watching all of their stars go home?
A Chicago native, Wade had multiple discussions with the Bulls when he was a free agent in 2010. He's been in Miami since the franchise drafted him in 2003, but all of a sudden the future doesn't look so bright there. The 32-year-old might have planned to finish his career where he started it, but he should at least listen to what Chicago has to say, shouldn't he? 
The Bulls have been an elite defensive team under Tom Thibodeau for years, and adding a healthy Derrick Rose and Wade to the roster would improve their offense tremendously, maybe making them title contenders. Much has been made of Wade's disappointing NBA Finals against the San Antonio Spurs, but the veteran was excellent all season long before that. He averaged 19 points, 4.5 rebounds and 4.7 assists per game in 2013-2014, shooting a career-high 54.5 percent from the field. While Wade isn't the superstar he used to be, he's far from finished, and Chicago would allow him to play a reduced role. The potential partnership sounds pretty intriguing.
Show Comments
Hide Comments
Shaq says LeBron isn't comparable to any one legend, rather a mixture of several greats

Kevin Love says the Cavaliers are on the same level as the Warriors: 'We match up well'

Former Lakers star is now an executive for Golden State
How do the Cavaliers flip the script for a second straight year?

Boston lacks the size, rebounding and rim protection necessary to take on bigger lineups

What happens when the Death Lineup comes in? Can Kyle Korver keep it up?