Report: Carl Landry is Warriors' 'focus'
The Warriors are reportedly targeting Carl Landry as a free agent addition.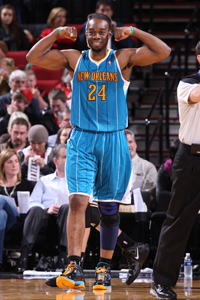 "Can my bonus be based on bicep size?"
(Getty Images)
The Warriors are still finishing out their team, which looks, at least on the surface, to be quite a bi better than the lottery tank-out they were at the end of the season. Mostly because they won't be sitting their best players. But still. And they're looking for one more major impovement, this time at reserve power forward. 
From the Contra-Costa Times comes word that the Warriors' "focus" is Carl Landry, who may be the best free agent left on the market.  
Landry would give the Warriors a decent replacement for David Lee when he goes to the bench. They'll lose rebounding, but should have the kind of roster to sustain well enough otherwise. Landry's a hard-working defender and can score at the rim. He's not afraid to do the dirty work, even if he loses a few teeth. 
Big men are at a premium and Landry does the job well enough. He averaged 18 points and 8 rebounds per 36 minutes last season with a very-respectable 18.2 PER. If the Warriors land him, that's going to make them two-deep at every position. 
Show Comments
Hide Comments
The two best point guards in the East go at it in a series sure to be filled with drama.

Breaking down key matchups as the second season reaches the conference semifinal series

The second round of the 2017 NBA Playoffs tips off Sunday at 1 p.m. ET, with Game 1 of Cel...
The Spurs have homecourt advantage, and will host Game 1 Monday night at 9:30 p.m. ET

All-Star guard flew to Washington after Game 6 vs. Bulls to attend his sister's funeral Sa...

Some love for the Rockets over the Spurs, and at least one expert says the Cavs are going...