Report: Cavaliers leaning toward drafting Joel Embiid with No. 1 pick
Despite conflicting reports about the status of Joel Embiid's back, the Cleveland Cavaliers are reportedly leaning toward taking him No. 1 in the draft.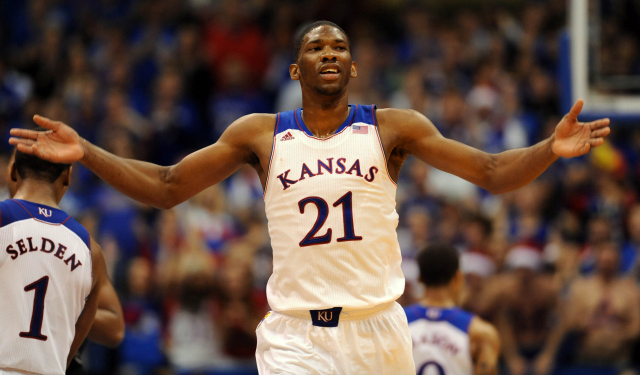 More Offseason Analysis: Coaching changes, news | Free Agency | Draft
The Cleveland Cavaliers have a busy nine days before they're slotted to use the top pick in the 2014 NBA Draft. There are so many directions they can go with the No. 1 pick on June 26. They can trade the it in hopes of bringing in a star player like Kevin Love. They can draft Joel Embiid out of Kansas to grab a potentially dominant big man. They can go for the wing star with the highest ceiling, Andrew Wiggins of Kansas. Or they can pick Jabari Parker out of Duke in hopes of bringing in a scorer that can have an impact right away.
Chad Ford of ESPN.com notes there have been conflicting reports about the state of Embiid's back after missing time as a freshman with a stress fracture. Some say there are red flags, others say the back is fine. Ford says after an impressive workout for Cleveland and a successful interview, the Cavs are leaning toward making Embiid the top pick.
Embiid's workout and interview in Cleveland last week were major successes, according to sources close to the Cavs. Embiid did a full workout there in front of the Cavs' front office and owner Dan Gilbert. Multiple sources said that the team was blown away with the workout. Embiid even ended one session by launching and nailing a series of 3s. Directly after the workout, two different sources told me that Embiid was the strong favorite to be drafted by the Cavs. Even Gilbert was on board.

However, there have been conflicting reports coming out of Cleveland about Embiid's physical, with one report stating the Cavs found multiple red flags. That's been strongly disputed by the sources I have, but getting accurate information this time of year is especially challenging. I don't see the incentive for the Cavs to leak that the physical was bad. It lessens the value of the No. 1 pick, especially considering that they are still looking at multiple trade options. The only way leaking it makes much sense is if they are thinking of swapping picks with the Sixers and want Embiid to fall to them there.
Embiid is the best big man in the draft but you don't want to encounter another Greg Oden-type of selection in which the player can't stay on the court. Granted, it would be different because of a back injury instead of a knee issue like Oden faced, but the potential of it being a bust because of an existing injury could be relatively the same in the long run. However, if the back is fine like some rumors indicate, Embiid becomes one of the best big-man prospects in a long time.
The Cavs have attempted to revive the career of someone facing a rough injury history before. Last summer they signed Andrew Bynum to a two-year deal without full guarantees, only to trade him to the Chicago Bulls in midseason for Luol Deng before the deadline to waive Bynum. Cleveland taking the risk with Embiid wouldn't be quite as severe, and if the Cavs end up hitting it big with that pick, they could be set with a young core for the next decade as they attempt to get back to title contention.
Show Comments
Hide Comments
Club reportedly wants to keep stars, but doing so promises more confusion and falling shor...

Warriors star talks to CBS Sports about how he gets his mind right

Vince Carter, Norman Powell and Nene have also shined on the big stage
A fantastic series will pit two of the best players in the league against one another, aga...

What does this mean for the future of Paul George?

Father's dream of his own billion-dollar brand prevents his son from landing a deal with the...