Report: Cavaliers reconsidering trading Wiggins for Kevin Love
Cleveland now open to idea of moving No.1 overall pick for All-Star forward.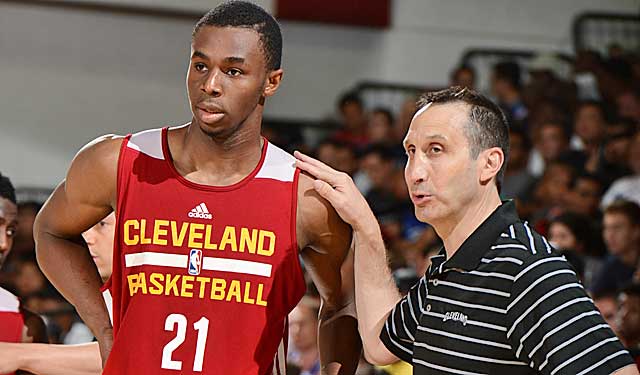 More Offseason Analysis: Updating Free Agency news | Free Agent tracker
The Ohio News-Herald reports and USA Today confirms that the Cleveland Cavaliers have made Andrew Wiggins available in trade talks for Minnesota Timberwolves superstar Kevin Love.
Cleveland Cavaliers now willing to include Wiggins in Kevin Love trade offer http://t.co/93I94KhZmj

— Bob Finnan (@BobCavsinsider) July 17, 2014
Indeed, Cavaliers have put Andrew Wiggins on table in their effort to acquire Kevin Love from Timberwolves who been firm in trade demands.

— Jeff Zillgitt (@JeffZillgitt) July 17, 2014
Most notably, the News Herald reports that LeBron James wants Love on the team which precipitated the decision to put Wiggins on the table. 
Up until this point, it was assumed the Cavs wanted to hang onto Wiggins, largely because of comments made by Coach David Blatt.

However, a source said James wants the 6-10, 250-pound Love on the roster.

And, what James wants, he normally gets.
via Cleveland Cavaliers now willing to include Wiggins in Kevin Love trade offer.
There's still conflicting information about whether this is the case, and the Cavs have been resistant to move Wiggins until this point. But if James has decided that he wants Love on the team, that might be the deciding factor. 
The question essentially comes down to one of known value vs. potential. Wiggins could be better than Love long term, but that doesn't mean he wil be. He could be worse than Love, or about the same. But with Love, you have a known quantity. He helps you win, and he helps you win right now.
But the Cavs have tried to be more receptive to patience, and LeBron himself in the letter admitted it may take time. Moving for Love defies that to a degree. H's a move to win now, to produce success at an accelerated pace. But he's also a sure bet. 
Do you want to gamble for the moon or take the mountain now? That's what the Cavs are debating at this point. 
Jared Sullinger wants back in the NBA; he knows his weight will play an important part

Cleveland is one of Rose's biggest suitors, and the Irving situation could lead to an even...

Five years later and Celtics fans continue to throw shade -- Allen later deleted the comme...
Irving has a desire to team up with Butler dating back to June

Apparently, Irving first asked to be traded in June in hopes of joining Jimmy Butler in Ch...

Despite Melo being a good trade piece for the Knicks on paper, he has his sights set on joining...