Report: Cavaliers shopping Luol Deng, worried he won't re-sign
The Cleveland Cavaliers are reportedly shopping newly acquired Luol Deng because they're concerned he may not re-sign this offseason.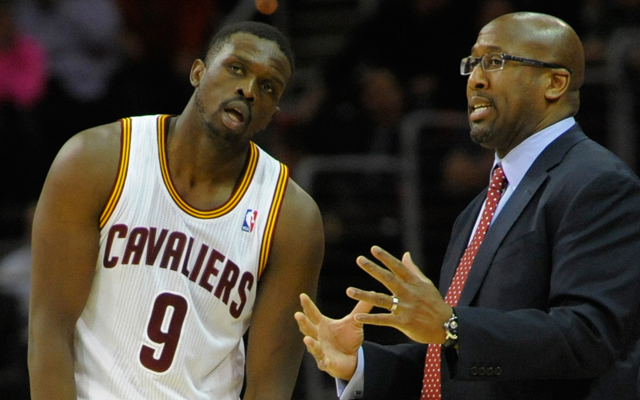 The Cleveland Cavaliers were ready to make a push toward the playoffs early last month when they traded Andrew Bynum's non fully guaranteed contract and three draft picks to the Chicago Bulls for Luol Deng. The All-Star forward was going to help them reverse the losing culture in Cleveland and help them right a ship in the weak Eastern Conference to give their young guys a brief taste of playoff success. Then the wheels fell off the Cavs, Chris Grant was fired as the general manager, and dysfunction seemed to be running rampant in the organization.
Since then, a five-game winning streak has put them back in the playoff hunt and there is less stress going on with the Cavs right now. But that may not stop them from shopping the newly acquired Deng to see what kind of assets he might bring in a deadline deal. Brian Windhorst of ESPN.com is reporting the Cavs are shopping him because of concern about his upcoming free agency.
As they evaluate their team and try to make a deal to help them get into the playoffs, the Cleveland Cavaliers are making recently acquired Luol Deng available ahead of Thursday's trade deadline, multiple league sources told ESPN.com.

The Cavs traded three future draft picks and Andrew Bynum to the Chicago Bulls to acquire Deng on Jan. 7. But the deal hasn't yet worked out how either side hoped.

Cleveland isn't determined to trade Deng, but with his impending free agency a concern, new general manager David Griffin is testing the market to see what the veteran forward might bring.

Getting value for Deng may be a challenge because his contract expires in June. He cannot be packaged with another Cavs player in a deal due to trade rules, though trades can be structured in a way to get around this issue if the sides are motivated enough.
This would be a pretty big change for the Cavs right away. If they're truly worried about re-signing Deng this summer, then it makes sense to move him and get something in return. The Cavs are 10-10 since acquiring Deng, which is good but it's also boosted by a sudden shift in the win column with this current winning streak. They're still just 21-33 on the season, good for 10th in the East and three games behind the Bobcats for the 8-seed.
Deng has averaged 14.6 points and 4.9 rebounds while shooting 41.5 percent from the field in 18 games with the Cavs.
Show Comments
Hide Comments
And Grizzlies coach David Fizdale didn't exactly disagree

Toronto survives, but struggles to do so

San Antonio will face the Houston Rockets in the second round
The 40-year-old is coming up big in the playoffs

Toronto eliminated Milwaukee in Game 6 on Thursday

Surgery is to "repair core muscle-related injuries"