Report: Cavaliers to interview Vinny Del Negro, Alvin Gentry, others
Vinny Del Negro might get another shot at NBA head coaching.
• 1 min read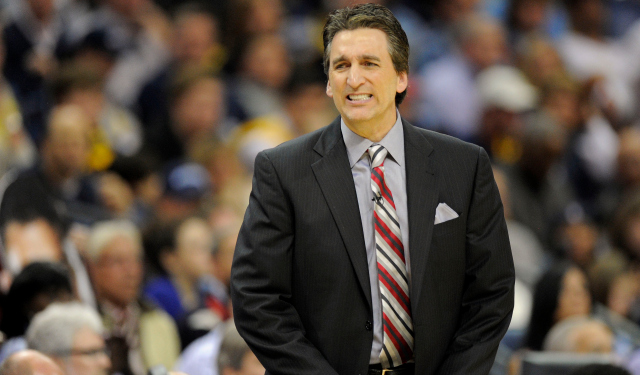 More Offseason Analysis: Coaching changes, news | Free Agency | Draft
The Cleveland Cavaliers are scheduling interviews soon with Vinny Del Negro, Alvin Gentry, Adrian Griffin and others for their vacant head-coaching position, according to Sam Amick of USA Today.
On Wednesday, Yahoo Sports' Adrian Wojnarowski reported that the Cavaliers were "aggressively mining the college ranks" and the Cleveland Plain Dealer's Mary Schmitt Boyer reported that Cleveland and Lionel Hollins had "mutual attraction." 
Del Negro is the most surprising name here, as he didn't exactly earn praise for his tactics when he was the head coach of the Chicago Bulls from 2008 to 2010 and the Los Angeles Clippers from 2010 to 2013. It would be quite something if, after coaching elite point guards Derrick Rose and Chris Paul, he was given the opportunity to work with Kyrie Irving. 
Gentry, currently a Clippers assistant, has received interest from the Utah Jazz about their head-coaching job, and from the Golden State Warriors and Sacramento Kings about assistant positions, according to NBA.com's David Aldridge. The Memphis Grizzlies also could be in the mix, if Dave Joerger ends up leaving for the Minnesota Timberwolves.
The Cavaliers want to a "hit a home run" with this hire, according to Sean Deveney of The Sporting News, and now own the No. 1 pick, which could make the team more attractive to a big-name coach. Cleveland appears to be starting the search with a lengthy list of candidates.
Show Comments
Hide Comments
Kyrie Irving went nuts in Game 4 and capped it off with a nasty highlight

Boston is better on defense without Thomas, but it obviously missed him in the second half...

The Cavs are up 3-1, in part thanks to Irving's astonishing performance.
Maybe the best player of all-time has his best season, and he's not even in the discussion...

Cleveland took a 3-1 lead on Boston and will look to close it out Thursday

Boston had a 16-point lead at one point