Report: Cavs' Dion Waiters fasted, cut carbs to drop 12 pounds
Cleveland guard Dion Waiters is preparing to compete for a championship next year.
• 1 min read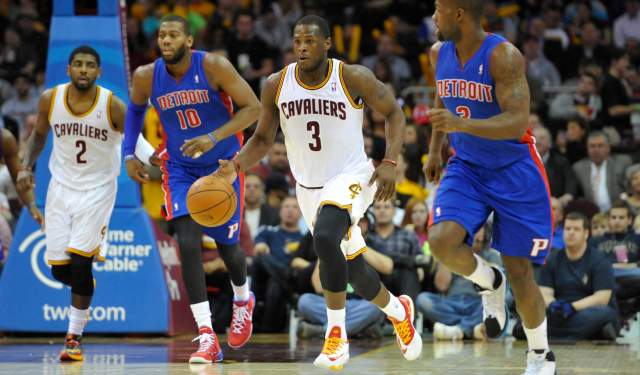 Cleveland Cavaliers guard Dion Waiters is excited about the possibilities with LeBron James and Kevin Love on his team next year, and he's prepared for the season differently this summer, via Mike Sielski of the Philadelphia Inquirer:
What he has a chance to be now, with James and Love, is a champion. By fasting for Ramadan and adopting a new diet that cut his carbohydrate intake, Waiters has lost 12 pounds since last season ended - another measure of preparation for what could be ahead for him.
This is good news for the Cavs. Remember when Waiters showed up to summer league out of shape as a rookie? There will be a lot more expected of him in this situation, and part of that will be James himself influencing him. Waiters has said that James told him to "be ready" days before announcing his decision, a story he reiterated to the Philadelphia Inquirer.
He added that, as he said he would, he's studied how Dwyane Wade played with James, and that he expects things to be a lot easier for him next season.
"When I get the opportunity to get the ball, I've got to destroy my opponent," he said. "The rest of the floor is going to be so wide open that, once I get by him, the rest of it should be easy."
He's right. In that starting lineup, with Kyrie Irving, James and Love on the perimeter, Waiters should have not have to deal with much resistance when driving to the rim. There will also be opportunities to make the sort of off-ball cuts Wade did so well alongside James.
Cleveland's offense has a chance to be historically good, and Waiters can play a big part in that. Being in great shape should help, but he'll also have to be more consistent and adjust to having the ball in his hands less than usual. It's up to him and Cavs head coach David Blatt to make the transition go as smoothly as possible.
Chicago needs to decide whether to pay Rondo $13.4M next season or buy him out for $3M

Rose played in 64 games for the Knicks before a season-ending knee injury

Durant chose an odd way to shout out his former OKC teammate
Teams are reportedly trying to bring in the veteran forward in an effort to weaken the War...

LeBron has reportedly already ruled out any chance of joining the Clippers

The Thunder plan to offer the recently named MVP a massive five-year extension worth around...