Report: Cavs haven't given up on bringing LeBron James back
Cleveland is going to try to meet with LeBron James' agent, Rich Paul, this week.
• 2 min read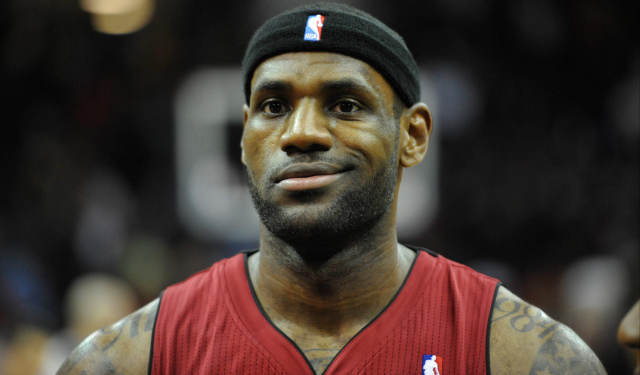 More Offseason Analysis: Coaching changes, news | Free Agency | Draft
The Cleveland Cavaliers reportedly haven't given up hope that they can woo LeBron James back in free agency. They plan to speak to his agent, Rich Paul, this week, and they think they can "separate themselves" in their pitch, according to the Akron Beacon Journal's Jason Lloyd:
They have been preparing for months, even years, for this moment. They know any team that gets in front of him will lay out a plan of how they'll win with him, how they'll surround him with top talent and how they can win titles together.

But the Cavs privately feel they can separate themselves in two key areas: This area is still home to him, and Dan Gilbert is willing to cut any check necessary to help the team win.

The Cavs know how much James and his wife, Savannah, love being in Northeast Ohio. He spends plenty of time at his Bath home in the summer, and the Cavs will try to convince him of the merits to return here permanently.

Perhaps more importantly, they'll try to sell him on Gilbert's deep pockets. The history between Gilbert and James is all-too-well documented. Gilbert's letter in the hours after James' departure four years ago did significant damage to the relationship, but what can't be denied is Gilbert's willingness to spend.
Cleveland will reportedly cite the fact that the Miami Heat amnestied Mike Miller last summer and didn't properly replace him, which reportedly bothered James. The idea is that things like this wouldn't happen with Cavaliers owner Dan Gilbert.
I hope that the hilarity of Dan Gilbert -- the author of the infamous Comic Sans letter -- being used as a selling point for James isn't lost on anyone. What an amazing league this is. 
It should be noted that Lloyd reported "a more likely scenario" is that Cleveland will move on without James. As hopeful as the Cavs are, it's hard to picture this reunion actually happening. In the big picture the Heat haven't really been cheap with the roster, and any team courting James will be willing to spend big to compete for a title. 
Sam Amick of USA Today also reported that the team plans to speak to Paul, but "many around the league" assume James is going back to Miami.
Remember when she taught Westbrook basketball? Neither does she

Wall says the Wiz are one player away and PG could fill that void in Washington

A look at who your favorite team can possibly acquire this summer in free agency
Unfortunately, Antoine Walker was not involved

The newly minted league MVP said he wanted to enjoy his big moment

Westbrook became the second player ever to average a triple double for an entire season.