Report: Cavs still considering trading No. 1 pick for small forward
Cavs are reportedly still shopping the No. 1 pick for a scoring small forward to serve as an upgrade to Alonzo Gee. If not, Nerlens Noel is the pick.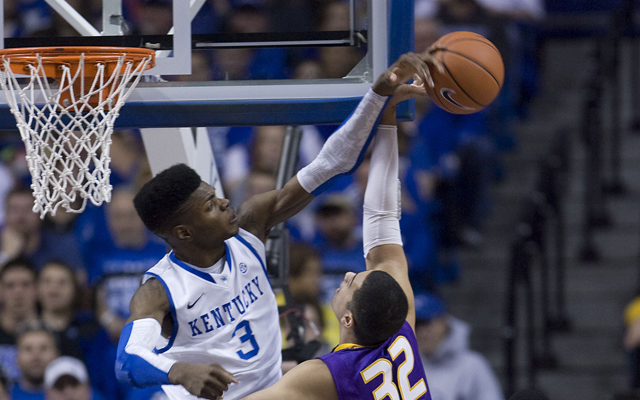 The Cleveland Cavaliers won the lottery! Party! Nothing like winning the lottery ... in the worst draft ... since 2000. 
Anyway, the Cavs have a lot of options at least, with no clear-cut No. 1 pick and no demand to absolutely take any player at all. If they don't, they plan to target a small forward. From ESPN: 
The playoff issue might be the biggest reason why the Cavs don't pick Noel, or anyone else for that matter, with the No. 1 pick. Sources say the Cavs have already begun to explore what they can get with the No. 1 pick. If they can get a young big or small forward in return, owner Dan Gilbert will be pushing for them to trade the pick.

Who can they get? The pickings will be slim. Teams aren't dying to get the No. 1 pick. But one name you shouldn't totally rule out is the Sacramento Kings' DeMarcus Cousins. Bradford Doolittle mentions this in his draft trade scenarios piece today.
via 2013 NBA Draft - Nerlens Noel remains front-runner for top pick, other draft rumors - ESPN.
And from SI.com: 
The Cavs have acknowledged that they will listen to offers for the top pick, and rival executives say they are looking for an established scoring forward in return.
via 2013 NBA Mock Draft: Cavs take Nerlens Noel, Magic take Ben McLemore - NBA - Chris Mannix - SI.com.
The Cavs re-signed Alonzo Gee last season and in reality, he's a serviceable starting small forward. But that position has become the premium one among teams building rosters. The Warriors shopped their pick all the way up until selecting Harrison Barnes last year and continued to seek out an upgrade at the trade deadline. Toronto bagged Rudy Gay specifically to address that need. 
So finding one is going to be a bit of a problem. Those guys just don't grow on trees. Thaddeus Young is a very productive combo forward who could prove to be available, but you're not trading the No. 1 pick for him. Same with Chandler Parsons in Houston. 
Yet this is a diminished draft. Honestly, you'd rather have Parsons than the No. 1 pick. But you can't make that deal because of the established value of No. 1 picks. That' why this draft is so complicated, and why the end result may simply be the Cavs picking Noel, who is still considered the front-runner to be drafting No. 1.
Show Comments
Hide Comments
Washington's forward suffered an ankle injury early in the second quarter of Game 1

Markieff Morris' turned ankle is a huge deal for a shallow Wizards team

Carter turned 40 this season
Washington's forward suffered a nasty ankle injury in the second-round opener vs. Boston

The Spurs are the favorite, but the series will likely be close

The second round of the 2017 NBA Playoffs tips off Sunday at 1 p.m. ET, with Game 1 of Cel...