Report: Cavs to target Trevor Ariza if they miss out on LeBron
Cleveland will reportedly look to sign unrestricted free agent Trevor Ariza if it can't bring back the best player in the world.
• 1 min read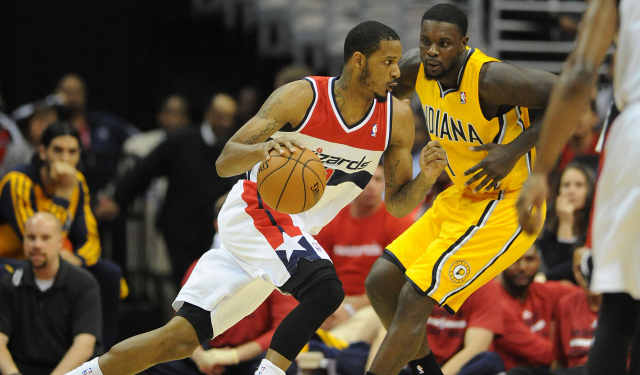 More Offseason Analysis: Coaching changes, news | Free Agency | Draft
The Cleveland Cavaliers intend on using their newly acquired cap space to make a run at free agent forward Trevor Ariza if they can't get LeBron James, according to Yahoo Sports' Adrian Wojnarowski. The Washington Wizards have also made it a priority to retain Ariza.
This sounds a bit dangerous. The last time a team invested big money in Ariza after a contract year, he shot under 40 percent from the field for two seasons in a row. If the Cavs want to take Ariza from Washington, they will probably have to give him big money.
Unlike Chandler Parsons, another reported Cleveland target, Ariza is 29 years old and isn't likely to improve at this stage of his career. He'd give the Cavaliers 3-point shooting, defense and athleticism in transition, which would fit just fine, but he's just not the same sort of all-around player that Parsons is. Another difference between Ariza and Parsons, however, is that Ariza is an unrestricted free agent. Cleveland didn't clear all that space for nothing, and it's expected that dominoes will start to fall as soon as James and Carmelo Anthony make their decisions.
Cleveland is one of Rose's biggest suitors, and the Irving situation could lead to an even...

Five years later and Celtics fans continue to throw shade -- Allen later deleted the comme...

Irving has a desire to team up with Butler dating back to June
Apparently, Irving first asked to be traded in June in hopes of joining Jimmy Butler in Ch...

Despite Melo being a good trade piece for the Knicks on paper, he has his sights set on joining...

Kyrie is reportedly open to leaving Cleveland, and New York is among his top choices to be...