Report: Celtics finalizing deal with free agent Evan Turner
Evan Turner is reportedly heading to Boston.
• 1 min read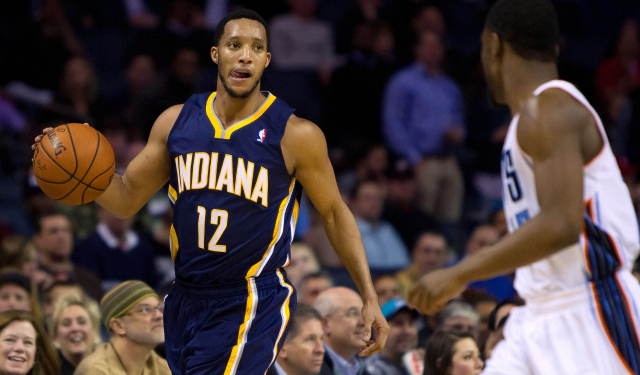 More Offseason Analysis: Coaching changes, news | Free Agency | Draft
Evan Turner is headed to the Boston Celtics, as first reported by Steve Bulpett of the Boston Herald.
Celtics finishing deal for FA Evan Turner, sources tell Herald. He will get a portion of their mid-level exception.

— Steve Bulpett (@SteveBHoop) July 21, 2014
Celtics front-office and agent David Falk just got off the phone finalizing deal for Evan Turner.

— Jeff Zillgitt (@JeffZillgitt) July 21, 2014
Turner, the No. 2 overall pick in the 2010 draft, had a disappointing stint with the Indiana Pacers last season. The team posted terrible offensive and defensive efficiency numbers when he was on the court, and he was out of the rotation come playoff time. Averaging 7.1 points, 3.2 rebounds off the bench and shooting 41 percent from the field in Indiana hurt his stock and cost him significant free-agent money.
Before being traded to the Pacers at February's deadline, Turner averaged a career-high 17.4 points and 6.0 rebounds per game for the Philadelphia 76ers, though he only shot 43 percent from the field and 29 percent from the three-point line in those 54 games, the vast majority of which were losses.
This will be a reclamation project for Boston head coach Brad Stevens. Turner was a highly touted prospect because of his size, skills and ability to rebound well from the wing positions, and it's not as if all of that has gone away. He has been an inefficient NBA player for four years, though, and his defense needs a ton of work.
Among the 74 players with 8,000+ minutes over the last 4 seasons, Evan Turner ranks 74th in PER

— Jeremy Lundblad (@JLundbladESPN) July 21, 2014
We'll see what the salary is, but it's not likely to be a huge commitment. For a team that isn't going anywhere anytime soon, this is a low-risk move. If Stevens can get through to Turner and harness his talent in a way that fits his system, it could be a high-reward one.
Show Comments
Hide Comments
This pick cost Boston Markelle Fultz and Jimmy Butler, so it better work out

According to the odds, it's going to be a close race for Rookie of the Year next season

Full results of all 60 picks of the 2017 NBA Draft
Highlights and lowlights, including several ways the Bulls found to lose

See who nailed it and who whiffed as we grade every pick of the 2017 NBA Draft

Lonzo's loudmouth father was at it again at the NBA Draft, but the Lakers coach is more me...