Report: Celtics shopping for J.J. Redick
Boston reportedly wants to add J.J. Redick, but do they have the assets to acquire the Orlando sharpshooter?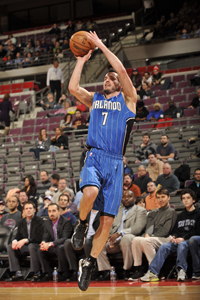 Celtics value Redick.
(Getty Images)
ESPN reports the Celtics, even before a Thursday-night loss to the Knicks, have been talking to Orlando about acquiring J.J. Redick. 
The Celtics are quite familiar with Redick from the Celtics-Magic playoff battles of years past, where Redick not only burned them with his 3-point gunnery but his surprisingly good defense. He's quite honestly the best defender of Ray Allen and Celtics screenbuster that I've seen in the league. 
He fits a lot of what the Celtics want to do, adding a willing shooter with a little bit of handle who can stretch the floor and defend. The question is what, if anything, they have to offer. The Celtics have some good players, Jason Terry, Courtney Lee, Brandon Bass to name a few who haven't worked out this season, but those aren't the kinds of players that Orlando needs. 
The Magic need cap relief, specifically from players like former Celtic Glen Davis and point guard Jameer Nelson. They also need young players, in the mold of promising center Nikola Vucevic, and draft picks. If the Celtics want to land Redick, they might need to get a third team involved. Redick has got too much value on the market otherwise. 
Redick told me earlier this month that this is the most trade speculation that he has been under and that, as a result, he has had to stop checking the rumors on HoopsHype.com. 
Show Comments
Hide Comments
The OKC star exits in 4-1 series loss to Houston after one of the most remarkable individual...

How to watch the first-round series between San Antonio and Memphis

The playoffs are getting interesting
The Cavs and Warriors have both swept their first-round opponents

Les Alexander appeared to complain to a referee in the middle of live play

Houston has a 3-1 lead. Here's how to watch the rest of the series