Report: Celtics would accept trade for Amar'e Stoudemire
Celtics willing to take Stoudemire's massive contract for Gerald Wallace and Courtney Lee's longer-term deals.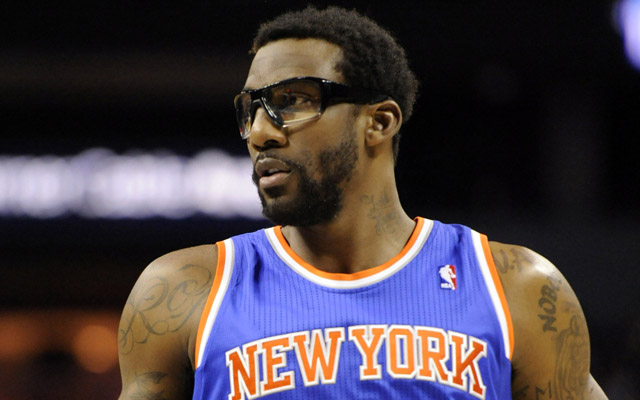 ESPN reports that the Boston Celtics, as they continue to field but remain unreceptive to offers for Rajon Rondo, are willing to make a deal with the Knicks for a player on a big contract: Amar'e Stoudemire. 
While C's not moving Rondo, they would take back Amare in deal n which they could unload longer deals of Gerald Wallace &/or Courtney Lee

— Chris Broussard (@Chris_Broussard) November 18, 2013
The move would be a short-term win and a long-term loss for the Knicks. Getting out from under Stoudemire's deal has good parts, but he's unlikely to take an opt-out for next season. Meanwhile, Wallace and Lee are fully guaranteed until 2016. So if you're the Knicks, this team gets better, but you lose the ability to clear space to add another star next to Carmelo Anthony in 2015, a big part of the Knicks' pitch to Melo this summer when he's a free agent. 
So the Celtics are basically offering to be the Knicks' panic trade partner, but unless Boston decides to include Vitor Faverani or another big, it doesn't do New York much good.
However, it's notable that the two teams continue talking.
Stoudemire's been unable to stay on the floor and has been frustrated with Mike Woodson's minute restriction on him, while averaging three points and two rebounds in just ten minutes of play per game. 
Cleveland is one of Rose's biggest suitors, and the Irving situation could lead to an even...

Five years later and Celtics fans continue to throw shade -- Allen later deleted the comme...

Irving has a desire to team up with Butler dating back to June
Apparently, Irving first asked to be traded in June in hopes of joining Jimmy Butler in Ch...

Despite Melo being a good trade piece for the Knicks on paper, he has his sights set on joining...

Kyrie is reportedly open to leaving Cleveland, and New York is among his top choices to be...