Report: Clippers' Blake Griffin breaks hand hitting team equipment staffer
Blake Griffin was sent home after suffering what is believed to be a fractured hand under mysterious circumstances.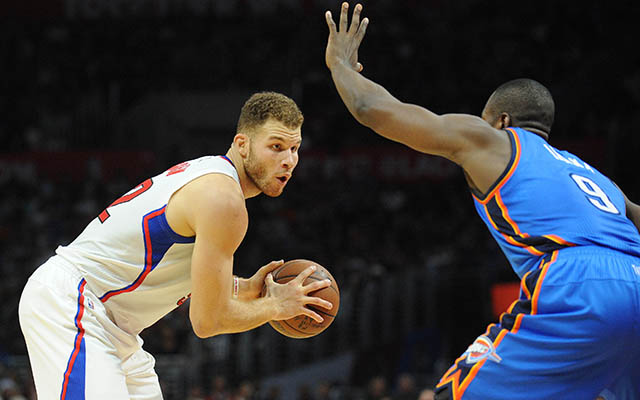 Los Angeles Clippers forward Blake Griffin has been recovering from a quadricep injury and was nearing a return date. But on Monday, Griffin was sent home from the Clippers' East Coast road trip with a new, unrelated hand injury, according to ESPN.
That's unfortunate for the Clippers, who need their best player for a second-half playoff run. 
But more alarming news came shortly thereafter, also from ESPN: 
ESPN sources tell @ramonashelburne and I that Blake Griffin has suffered suspected broken hand in undisclosed team-related incident

— Marc Stein (@ESPNSteinLine) January 26, 2016
Michael Eaves of ESPN reports the broken hand suffered by Griffin after hitting a member of the team's equipment staff repeatedly during an argument at a restaurant in Toronto.
#Clippers forward Blake Griffin injured his right hand after hitting a member of the team's equipment staff during an argument in Toronto

— Michael Eaves (@michaeleaves) January 26, 2016
The altercation started in a restaurant. It proceeded outside where Griffin hit the equipment staffer multiple times. #Clippers

— Michael Eaves (@michaeleaves) January 26, 2016
This is reminscent of the Kevin Love broken hand incident when he was a member of the Minnesota Timberwolves back in 2012. Love was said to have injured his hand by doing knuckle push-ups, but reports filtered in that it happened as a result of an altercation. The injury could have dire impact. The Clippers had surged through the early part of Griffin's absence though that success has come during a weak portion of the schedule. 
The Clippers face most of the tough teams in the league between now and the end of February after being throttled by the Raptors on Sunday.
Show Comments
Hide Comments
Our Latest Stories
The star's clutch shot represented validation for him

Last season was obviously frustrating for Houston's superstar

The Black Mamba and the King both show respect for the Big Ticket.
Confidence is a good thing, but he's getting a little ahead of himself here

That doesn't mean he won't eventually join the protests

He's played just 44 games over the past two seasons