Report: Clippers trade Dudley, pick to the Bucks for Delfino, Raduljica
The Los Angeles Clippers have reportedly traded Jared Dudley and a future first round pick to the Milwaukee Bucks for Carlos Delfino and Miroslav Raduljica.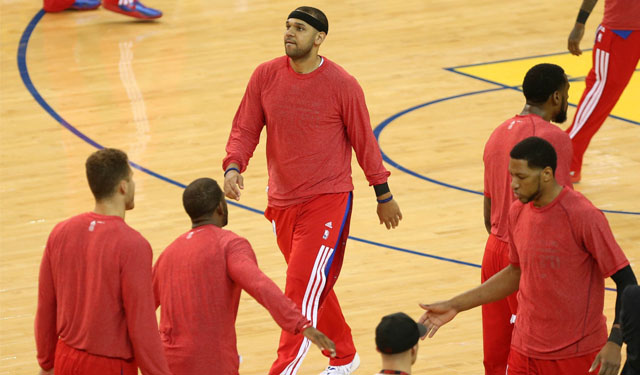 The Los Angeles Clippers have reportedly agreed to a trade with the Milwaukee Bucks that will help the Clippers' short-term financial situation. Adrian Wojnarowski is reporting the Clippers have sent Jared Dudley and a future first-round pick to the Bucks in exchange for swingman Carlos Delfino and big man Miroslav Raduljica. Delfino isn't likely to help out this season, as he's still recovering from a foot fracture last season that left his career in doubt. 
Bucks will send Carlos Delfino and Radiluca to the Clippers for Dudley and a future first-round pick, source tells Yahoo.

— Adrian Wojnarowski (@WojYahooNBA) August 26, 2014
The first-round pick of the Clippers headed to Milwaukee can't be until 2017. Their 2015 first-round pick is going to the Celtics as compensation for Doc Rivers becoming the Clippers' coach last summer. This looks like a cost-cutting move through and through for the Clippers. Dudley's deal for 2015-16 is $4.25 million unless he decides to terminate the contract next summer. With the Clippers having so much depth on the wings already, being able to save money here will keep them away from the luxury tax next summer and possibly give them the opportunity to add another role player.
Delfino's contract for 2015-16 is not guaranteed, so the Clippers can waive him before 2015 free agency and wipe away his $3.25 million deal. Raduljica's contract for 2015-16 isn't guaranteed, either, so they could wipe away his $1.5 million deal as well.
It appears Wall will be staying in Washington for a long time

Apparently James wasn't aware that Kyrie was considering a change of scenery

The Knicks reportedly have interest in the Cavs star, but do not want to give up their uni...
The Knicks, Spurs, Timberwolves and Heat are reportedly his preferred teams

Altman has been serving as the Cavs' assistant general manager under David Griffin

It was a calm Friday in the NBA world ... and then it wasn't