Report: Clippers will not make futile attempt at Dwight Howard
The Clippers are reportedly not going to pursue Lakers free agent C Dwight Howard through sign or trade, for a number of obvious reasons.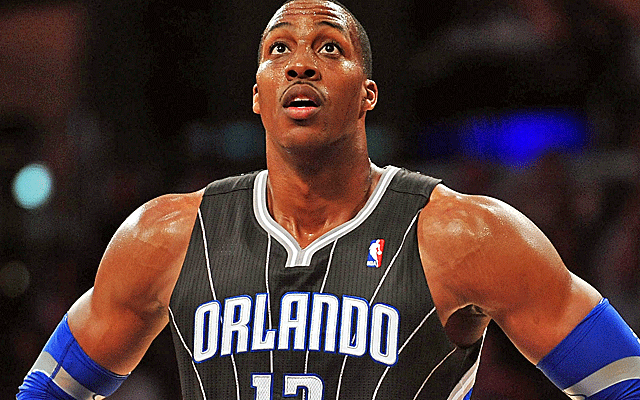 You may be wondering why we would waste the digital space on telling you that Dwight Howard won't be hooking up with a certain team. We'll get to that in a second. First off, ESPN reports that Dwight Howard may end up in L.A., but not with the red, white and blue: 
You can cross Clippers off list of Dwight suitors, btw. Not happening for multiple reasons, according to sources

— Ramona Shelburne (@ramonashelburne) May 20, 2013
So there that is. Howard will not be hooking up with Chris Paul with the other L.A. team. This is not surprising given that a. the Lakers cannot sign and trade him to get assets back from the Clippers due to CBA changes going into effect this offseason, b. they wouldn't want to trade him to their division rival who shares a hallway with them, c. the Clippers don't have the cap space to absorb him otherwise, and d. Chris Paul reportedly got tired of him last year for this whiff-whaffling. 
So scratch the Clippers off the list, while putting the Rockets and Mavericks firmly on the list, per CBSSports.com's Ken Berger: 
Though Howard is adamant his free agency not be marred by the circus-like environment that surrounded his departure from Orlando last summer, word already has spread to multiple levels of his support staff that Howard re-signing with the Lakers is far from a done deal.

With six weeks to go before Howard becomes an unrestricted free agent, the team that is said to intrigue him the most is the Houston Rockets, according to multiple people briefed on internal conversations surrounding Howards free-agent decision. The Rockets have a young star, James Harden, who has proved himself worthy of playing the leading role for the franchise; a budding 3-point shooting threat in Chandler Parsons; a defensive-minded coach in Kevin McHale; and Omer Asik, the kind of 7-footer Howard is believed to want next to him in the frontcourt.

The Mavericks represent another franchise that intrigues Howard, and Dallas is a minor transaction or two away from having enough room to sign Howard outright as an unrestricted free agent. Howard plans to explore all such options, and a person briefed on his plans told CBSSports.com that there are "several" teams the free-agent center is "going to take a hard look at."
via FA Howard no lock for Lakers, to explore options; interest in Rockets - CBSSports.com.
So why does the Clippers not being on the list matter? Because first, it indicates the Clippers aren't in "make massive changes out of a desperate attempt to woo Chris Paul back" mode. It also says that Howard's likely not interested in that kind of team, which seems to indicate a team like Houston may be more in his wheelhouse as he tries to escape the zoo that is L.A.. It's all these little pieces of info you need to keep track of the Howard situation. 
Not that it matters, since Howard's decision-making at this point might as well be decided by the cast of a die. 
Show Comments
Hide Comments
Our Latest Stories
This was unnecessary, but in the end didn't hurt the Mavs

The Raptors guard is stepping up

Whoops! Looks like the refs missed this one
Teams should plan their rest dates a little better

We need video of this ASAP

So there's a beacon of sanity in a world gone mad