Report: Delonte West to play for Clippers in summer league
Free agent guard Delonte West will reportedly play for the Los Angeles Clippers in summer league.
• 1 min read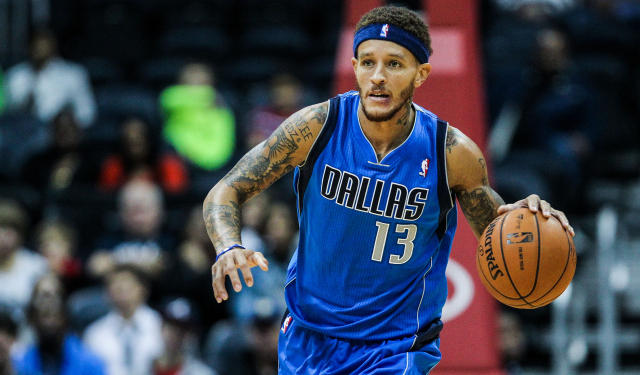 More Offseason Analysis: Coaching changes, news | Free Agency | Draft
Free agent guard Delonte West will play for the Los Angeles Clippers in NBA Summer League this July in Las Vegas, according to Chris Haynes of CSNNW.com.
His unwavering desire to once again play at the highest level is a goal he's fixated on procuring for next season, one of the sources explained. The sources spoke on the condition of anonymity due to an official announcement yet to be made by the team.

Clippers head coach and Senior Vice President of Basketball Operations, Doc Rivers, has always been fond of West as a player and a person dating back to when he coached him as head coach of the Boston Celtics.
Doc Rivers spoke to West in Dallas this season and told him that, if the Clippers' J.J. Redick didn't return from injury, there might be an opportunity in Los Angeles, according to an excellent profile from Slate's David Haglund published late Wednesday. That piece paints a picture of West waiting for his next shot in the NBA -- he has been out of the league for two seasons and spent this one stuffing stat sheets in China, but would rather not go back there:
"We need 40 so we can win tonight," the coaches would tell him, he says. "But that's a low quality of basketball. That's open-gym style." I ask if basketball was still fun over there, and if it's still fun in general. "Basketball's always fun," he says, "but I like to play at the highest level. And that's why the NBA is where I belong."
West is only 30 years old, and was productive when he played for the Mavericks in 2011-2012. According to Slate, he wanted more than a minimum salary from Dallas at the time, but now "says he has no contract demands." If West makes a good impression in summer league, perhaps he will wind up back where he wants to be.
Show Comments
Hide Comments
Despite the Wolves being better with him on the floor, Rubio can't escape more trade rumor...

The Celtics are exploring a Kristaps Porzingis trade, but the Knicks are asking for a lot

Phoenix was close to signing the power forward before he picked San Antonio in 2015
Follow our live blog for updates on draft night

The Timberwolves are reportedly interested in reuniting Jimmy Butler and his former coach

Ball released a short track of him rapping over Drake's 'Free Smoke' a month ago