Report: DeMar DeRozan not being 'overtly shopped'
Raptors wing enjoying success without Rudy Gay and might be close to off the trade market.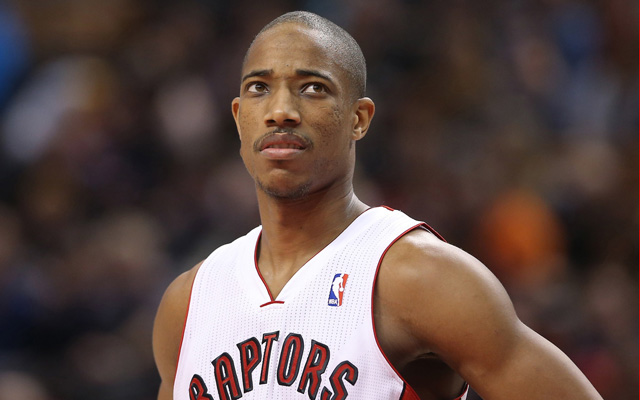 At some point, the Raptors are going to run out of players to trade. After dealing Andrea Bargnani and then Rudy Gay (along with Quincy Acy and Aaron Gray), Toronto has gone on an unexpected winning tilt, going 5-2 since moving Gay to Sacramento.  It could be a dead cat bounce. They could be legitimately decent despite the drought of top-tier talent. Either way, it's been fun to watch. 
ESPN reports that the centerpiece of the offense, DeMar DeRozan, isn't being aggressively shopped for return by GM Masai Ujiri.
DeRozan insists that he and the other Raptors are not gripped by fears of "Whos Next? " The latest indications in circulation actually are that he's not being overtly shopped, but the 24-year-old says he hasn't gone to Ujiri to ask if he is or isn't being made available to other teams.
via Raptors might rise out of Atlantic mire - Marc Stein Blog - ESPN.
DeRozan would make a lot of sense to move. He was signed to an extension last year by the former front office, and has over $28 million left on his deal over three years after this season. He's shooting just 43 percent, and his rebounding isn't really up. The two areas he has made significant strides are three-point shooting and assists, both career highs. He's also just been more aggressive this season. 
It's possible a team might come looking for him and if they do, Ujiri is unlikely to hang up the phone right away. But eventually the Raptors are going to run out of ways to tank this season with the Atlantic Division this bad, and may just have to ride out whatever short-tem success they can find. 
Show Comments
Hide Comments
The two best point guards in the East go at it in a series sure to be filled with drama.

Breaking down key matchups as the second season reaches the conference semifinal series

The second round of the 2017 NBA Playoffs tips off Sunday at 1 p.m. ET, with Game 1 of Cel...
The Spurs have homecourt advantage, and will host Game 1 Monday night at 9:30 p.m. ET

All-Star guard flew to Washington after Game 6 vs. Bulls to attend his sister's funeral Sa...

Some love for the Rockets over the Spurs, and at least one expert says the Cavs are going...