Report: D.J. Augustin to sign with Bulls after clearing waivers
The Chicago Bulls will reportedly sign DJ Augustin, who was just waived by the Toronto Raptors.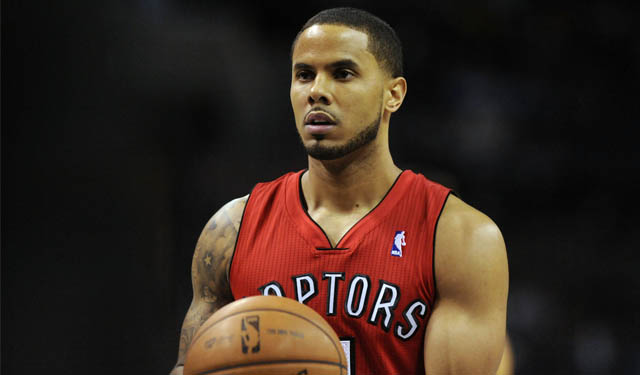 After the Toronto Raptors traded Rudy Gay and two other players to the Sacramento Kings for Greivis Vasquez, Patrick Patterson, Chuck Hayes and John Salmons, they had 16 players under contract and had to release someone. Even though Julyan Stone's deal wasn't guaranteed, they opted to waive D.J. Augustin. Augustin was shooting just 29.2 percent from the field in 10 games for Toronto. 
Adrian Wojnarowski of Yahoo Sports is reporting that the Chicago Bulls will sign Augustin when he clears waivers on Wednesday. 
The Chicago Bulls will sign point guard D.J. Augustin after he cleared waivers on Wednesday, league sources told Yahoo Sports.

Augustin needs to pass a physical with the Bulls on Thursday. He was waived by the Toronto Raptors on Monday.

The Bulls lost superstar point guard Derrick Rose for the season, and have been searching for further depth at the position with backup guard Mike James working his way back from a sprained knee. Shooting guard Jimmy Butler has been recovering from a foot injury and could return in the near future.
The Bulls are currently going with a three-point guard trio of Kirk Hinrich, Marquis Teague and James right now. Signing Augustin would presumably make him the backup over Teague and James. Augustin was the ninth pick for the Charlotte Bobcats in the 2008 NBA Draft but has struggled to find good scoring opportunities since his rookie season. He's a career 40-percent shooter from the field and 36.8 percent from 3-point range.
Chicago has been trying to piece together an attack since the latest Rose injury that knocked him out for the rest of the 2013-14 season.
Show Comments
Hide Comments
The two best point guards in the East go at it in a series sure to be filled with drama.

Breaking down key matchups as the second season reaches the conference semifinal series

The second round of the 2017 NBA Playoffs tips off Sunday at 1 p.m. ET, with Game 1 of Cel...
The Spurs have homecourt advantage, and will host Game 1 Monday night at 9:30 p.m. ET

All-Star guard flew to Washington after Game 6 vs. Bulls to attend his sister's funeral Sa...

Some love for the Rockets over the Spurs, and at least one expert says the Cavs are going...