Report: Doc Rivers to talk contract extension with Steve Ballmer
New Clippers owner Steve Ballmer will reportedly soon start negotiating a contract extension for president and head coach Doc Rivers.
• 1 min read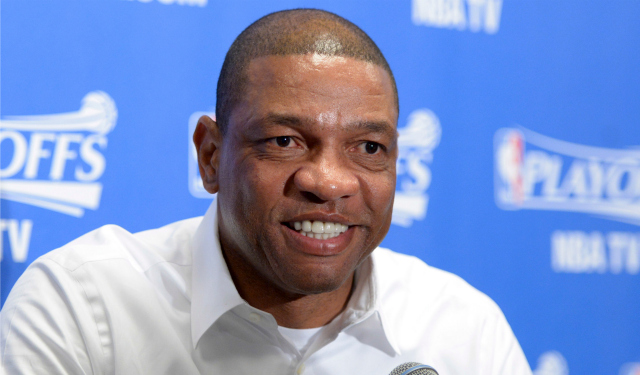 Offseason: Free Agency | Latest from Ken Berger | Rumors
The official sale of the Los Angeles Clippers means coach Doc Rivers will begin talking with new owner Steve Ballmer about a contract extension, according to Yahoo Sports' Adrian Wojnarowski.
Ballmer and Rivers had been eager to forge a long-term partnership, and a California court confirming the authority of Shelly Sterling to sell the franchise on behalf of the Sterling Family Trust has cleared the way to work toward a new deal.

Rivers, 52, the president of basketball operations and head coach, has two years left on his original three-year, $21 million contract. Rivers is already one of the highest-paid executives and coaches in professional sports, and his prominence and pay could grow with the promise of Ballmer's stewardship of the Clippers.
Rivers was the public face of the Clippers when the Donald Sterling scandal first surfaced during the playoffs, and while ownership was in limbo he wielded more power within the organization. He's been a stabilizing force for the franchise throughout the last few messy months. 
"This is an amazing new day in Clippers history," Rivers said in a statement about the sale. "I couldn't be more excited to work together with Steve as we continue to build a first-class, championship organization. I am already inspired by Steve's passion for the game, his love of competition and desire to win the right way and I know our players and fans are going to be inspired as well."
It doesn't seem totally necessary to extend Rivers' deal two years before it expires, but Ballmer might want to make a strong statement at the outset that he's committed to the proven coach. Even if he's not exactly proven as an executive yet.
Show Comments
Hide Comments
Our Latest Stories
In another shootout, the Washington got the best of LeBron James and co.

It doesn't, however, sound like he's looking for an official role

This isn't what you'd call peaking at the right time as Utah have lost four of its last fi...
Golden State is hoping to get Durant back before the end of the regular season

Shaquille O'Neal wishes his resume was a little bit stronger

The Philadelphia big man said it went 'better than expected'