Report: Dwight Howard to sign for four years, $88 million with Rockets
Dwight Howard is set to sign a four-year, $88 million deal with the Rockets on July 10 after making his decision Friday.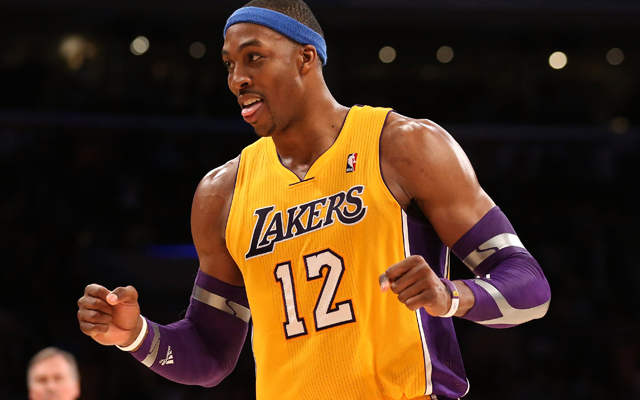 Howard chooses Rockets | Berger: Howard has to live with choice | Harper: Magic win Dwight trade | Moore: Winners and Losers from the Dwightmare | Howard changes avatar | Kobe unfollows Howard | Rockets jump in title odds | Moore: Lakers mortal | Moore: Morey's plan pays off
Yahoo Sports reports the terms of the Rockets' deal with Dwight Howard he's set to sign on Sunday, July 10. It's a lot of money. But there's bad news. For us. Not him. 
Dwight Howard's four-year, $88 million maximum contract agreement with the Houston Rockets will include an early termination option after the 2015-16 season and a 15 percent trade kicker, league sources told Yahoo! Sports.
via Dwight Howard can become free agent in 2016 - Yahoo! Sports.
That's right. In three years, Dwight Howard can become a free agent. We could do this whole thing again in four years. And then you realize that with the opt out, he could start threatening to leave Houston the year before. So really July 1, 2015 is when the nonsense could start. 
Howard will be 30 then, and you'd assume he wouldn't want to risk his standing, having a history including a major back injury. But this is Dwight. We can't be sure. 
$22 million is still enough that with Houston's state income tax situation he'll come close to recouping quite a bit of what he would have gotten with the Lakers, but not completely. The fact remains, Howard took less money to leave the Lakers, a move unheard of in the NBA. 
Show Comments
Hide Comments
Our Latest Stories
Jeanie Buss is now fully in charge

This dad apparently has a lot of time to travel the globe, taunting his kid for school tro...

The Spurs legend talked about World of Warcraft and much more on the "Road Trippin'" podca...
The struggling Clippers suffered a horrific loss to one of the worst teams in the league

Stephen Curry and co. face the Rockets (twice!), Spurs and Wizards this week

And the good times roll for Golden State