Report: Dwight Howard will decide where to sign by July 10
Dwight Howard will reportedly make his decision by July 10 on where to sign.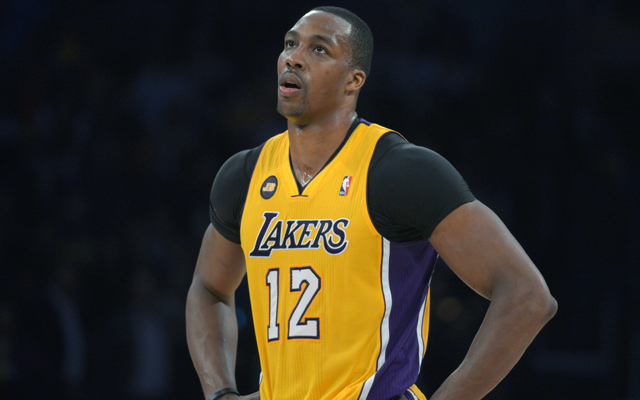 Brace yourself, it's The Decision, part two: Farts and candy edition. 
According to ESPN Los Angeles, Dwight Howard isn't going to drag out his free-agency decision, but instead will make his intentions known on July 10. That's the day the NBA's free-agency moratorium is lifted and players can officially sign with new teams. 
So it doesn't sound like Howard is going to have a one-hour nationally televised special or anything like that, which is a relief. And he's also not going to hold the entire summer hostage by dragging it all out. Howard's indecisiveness is now legendary, so anything he does to get this over with is appreciated. 
The Lakers are obviously selling out to keep Howard, going as far as putting up billboards in Los Angeles. But according to reports, Howard is unlikely to re-sign with the Lakers. 
General manager Mitch Kupchak told ESPN LA that he still has high hopes of Howard staying with the Lakers and feels his quick decision is nothing but a good thing. 
"It's in everybody's best interest, I think, to proceed in a timely fashion," Kupchak said. "I don't think it's Dwight's goal to drag it out. Whether he's with us or with another team, everybody this time of year has business to take care of. If he's here, he wants us to know that so we can build around him in this period of free agency, when it moves very quickly, and if he's with somebody else, that team is going to want the same thing."

[...]

"The word I've used is 'optimistic,'" Kupchak said Thursday night. "I think I'm optimistic. I understand that there's a possibility [Howard] won't [re-sign], and I probably don't have any more information than anybody in this room does. I'm aware of a lot of the stuff that's flying back and forth, a lot of the rumors, so there's a realistic possibility that he won't be back. But I'm optimistic that he will."
With teams like the Rockets and Mavericks positioning to make a strong run at Howard, the Lakers will have to sweat it out until July 10. They have a decent case, but it seems that Howard's season in LA didn't go especially well and that he didn't overly enjoy the pressure and scrutiny he found himself under. 
But we'll all know July 10. Or at least we're supposed to. With Dwight Howard, it's hard to tell. 
Show Comments
Hide Comments
Thunder fans used the term 'cupcake' in reference to Durant after he left OKC in free agen...

There appeared to be some wishful thinking on the part of Charlotte general manager Rich C...

Thompson is one of the best shooters in the league, but it appears dunking isn't his speci...
Cuban was willing to part ways with employees who leaked ahead of the official announcemen...

Draymond wasn't mad about the move, though. He was mad about the way he heard about it

All-Star forward was sent from the Bulls to the Timberwolves on draft night