Report: Ettore Messina is a candidate for Nets' coaching position
The Brooklyn Nets' coaching position is open again and international coach Ettore Messina is reportedly on the list of coaching candidates.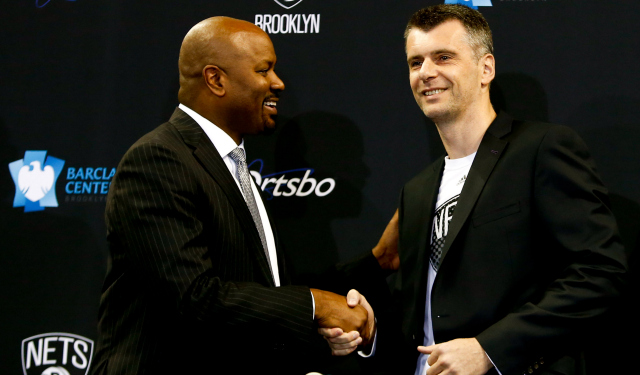 More Offseason Analysis: Coaching changes, news | Free Agency | Draft
Jason Kidd has been "traded" to the Milwaukee Bucks for two second round picks and now the Brooklyn Nets are searching for a coach once again. Just a year after the Nets welcomed Kidd back to the organization, this time as a coach instead of their point guard, the team is now looking to find the right sideline leader to keep the expensive roster headed toward a title run. 
The Nets could be looking toward the international coaching scene to replace Kidd. In addition to Mark Jackson, Lionel Hollins, and George Karl, they're reportedly looking at Ettore Messina, one of the more successful European coaches we've seen and a former consultant for the Los Angeles Lakers. ESPN.com reports he'll be in the running for the job and has deep ties to Nets' owner Mikhail Prokhorov. 
Source: 2 of leading candidates for Nets coach - Lionel Hollins and Ettore Messina, former coach of CSKA Moscow

— Chris Broussard (@Chris_Broussard) June 30, 2014
Lionel Hollins, George Karl and Mark Jackson also candidates in Brooklyn. And Messina ... who has deep ties to Nets owner Mikhail Prokhorov

— Marc Stein (@ESPNSteinLine) June 30, 2014
Messina is a four-time Euroleague championship coach, including twice with CSKA Moscow in 2006 and 2008. Prokhorov used to be a financial supporter of CSKA Moscow's basketball club. In his championship seasons, Messina was named the Euroleague Coach of the Year. He spent a season with the Lakers as a consultant to then coach Mike Brown and the rest of the staff. After his season with the Lakers, he returned to Europe for a second stint with CSKA. 
Show Comments
Hide Comments
This is the first sweep the Spurs have suffered since 2010

Curry passed Kobe during the third quarter of Game 4 vs. the Spurs

Durant made sure the rookie wasn't going to score on the fastbreak
The Warriors finish off the Spurs and advance to the NBA Finals

Enes Kanter had to run from the police in Indonesia before his return to the United States

The Warriors guard is a Red Baron fan -- and there's nothing wrong with that