Report: Frank Vogel 'coaching for his job' after Pacers slide
Indiana coach facing hot seat after two-month slide nearly cost team the No.1 seed, and after Game 1 loss to the Hawks.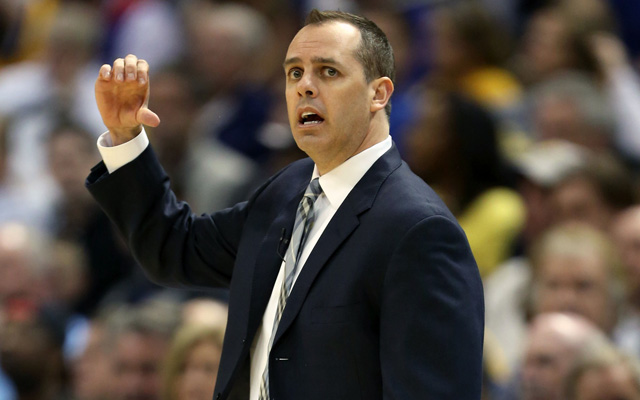 More Pacers : Report: Locker room fights | Doyel on Pacers | Hibbert doesn't fit
The Indiana Pacers managed to tie their series with the Atlanta Hawks Wednesday by blowing out the eighth seed in the second half. That's a good thing for coach Frank Vogel, too, since ESPN reports Wednesday that Vogel is effectively "coaching for his job" after the Pacers' two-month slide. 
Sources close to the situation told ESPN.com that Vogel, despite a 56-win season that secured the No. 1 seed in the Eastern Conference, is "coaching for his job" in the wake of a prolonged slide that has stretched into its third month.

Following Indiana's 101-85 triumph over Atlanta in Game 2 of the teams' first-round playoff series, sources told ESPN.com that coming back to win the series against the Hawks would not automatically ensure Vogel's safety. After a 40-11 start, the Pacers went just 16-15 the rest of the way before a humbling loss in the series opener against the eighth-seeded Hawks.

The decision on whether to retain Vogel at season's end ultimately rests with Pacers president Larry Bird, sources said, but frustration throughout the organization has been mounting thanks to a nosedive that began in February with a loss in Orlando just before the All-Star break and has shown few signs of abating.
via 2014 NBA playoffs -- Frank Vogel of Indiana Pacers coaching for job - ESPN.
The report comes nine days after Bird told local radio that he backs Vogel '100 percent.' 
Meanwhile, the Pacers try and figure out if they can sustainably beat the eighth-seeded Hawks due to Atlanta's ability to spread the floor with their "five-out" approach, using center Pero Antic and volume three-point shooting to get the Pacers out of their comfort zone. 
But making it out of the first round likely won't save Vogel's job. The bar was set with the Finals, with losing to Miami in the Eastern Conference Finals likely a "passing" grade. The Pacers, should they manage to beat Atlanta, will face either a tough, tough Chicago Bulls team or (more likely, given how the first two games have gone) the red-hot Washington Wizards in the second round. 
And if that wasn't enough, ESPN also reports that the incident between Lance Stephenson and Evan Turner wasn't the first clash with teammates in recent weeks for the man called "Born Ready." 
Sources said that Stephenson and guard George Hill had to be separated on the bench during a 26-point home loss to San Antonio on March 31. And when Roy Hibbert made his well-chronicled complaints to NBA.com in late March about "some selfish dudes in here," sources say he was essentially referring to Stephenson, who ranks as one of the league's most improved players this season as he approaches free agency in July and is well-known to be a Bird favorite.
Pressure to win or be fired, a fracturing locker room, a daunting postseason schedule ahead ... but hey, at least Vogel got the win in Game 2. Little victories, right? 
It was a calm Friday in the NBA world ... and then it wasn't

The 7-foot center will reportedly return to San Antonio after opting out his previous deal

Seattle longs for the NBA to return, but still sports a strong basketball following
Rose is reportedly being courted by the Cavs, Lakers and Bucks, among others

With the club reportedly pursuing Derrick Rose and LeBron James vexed, this news hits hard

Silver said personal political views shouldn't matter when it comes to the longstanding tr...