Report: Free agent Greg Oden is drawing interest from eight teams
Free agent center Greg Oden has attracted interest from at least eight teams, according to a report, but is it enough interest to get him a contract?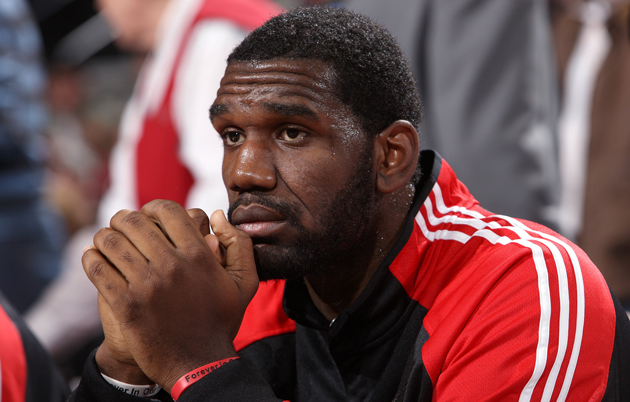 It has been a long time since Greg Oden laced up a pair of sneakers and stepped onto an NBA court with the intention of playing basketball that night. Dec. 5, 2009, was the last time he played in an NBA game and he fractured his left patella on a seemingly harmless play. Since then, he's had numerous surgeries on his knees and been working to get back to the NBA to attempt a comeback.
Marc Spears of Yahoo Sports is reporting that Oden is receiving interest from at least eight teams. We've talked about the interest from the Heat already, but he's receiving attention from a variety of contenders and franchises undergoing retooling and rebuilding.
Greg Oden hasn't played in an NBA game in more than 3½ years, but hasn't kept teams from inquiring about the possibility of signing him.

Oden, 25,has received interest from the  Miami Heat ,  San Antonio Spurs ,  Cleveland Cavaliers ,  Boston Celtics ,  Dallas Mavericks ,  Sacramento Kings ,  Indiana Pacers  and  Memphis Grizzlies , league sources said. 
This is a pretty intriguing list of potential suitors. The Heat have been playing small for two years now and abandoning the traditional lineup of having a real center in the middle to rebound, defend and score inside. The Spurs could lose Tiago Splitter as a restricted free agent if he receives an offer sheet they're not comfortable matching, leaving an open roster spot for a big man to play alongside Tim Duncan .
The Cavaliers have had interest in Oden for a while, but currently have a bit of a crowded frontcourt with Anderson Varejao , Tyler Zeller , Tristan Thompson ,and Anthony Bennett. The Celtics are overhauling their roster and could be looking for a young big man with potential, just in case Oden can stay healthy. The Mavericks are swinging for the fences with free agent  Dwight Howard but would still need big man depth.
The Kings are under a transformation with their new ownership and front office. The Pacers have  Roy Hibbert and Ian Mahinmi but bringing along Oden behind Hibbert could take the strain off of the hometown center. And the Grizzlies just acquired Kosta Koufos in a draft-day trade, but could always use some big man depth behind Zach Randolph and Marc Gasol .
With signing Oden, the key is having the patience to bring him back slowly and hope he can remain healthy to tap into the potential that used to seem unlimited before he was drafted with the No. 1 overall pick over Kevin Durant back in 2007. If you're not confident you can get him back to where he's supposed to be in terms of health, then a contract is never going to materialize for Oden. We could have a lot of window shoppers with Oden and nobody actually going into the store.
Show Comments
Hide Comments
Warriors are intent on keeping a mind like Jerry West around

LaVar has always been proud of his son, which Magic says isn't a problem as long as it doesn't...

Curry was cookin' on the pan and stole the show when she took over the mic
Shaq says LeBron isn't comparable to any one legend, rather a mixture of several greats

Kevin Love says the Cavaliers are on the same level as the Warriors: 'We match up well'

Former Lakers star is now an executive for Golden State