Report: Gordon Hayward, Utah Jazz discussing contract extension
The Utah Jazz and Gordon Hayward are reportedly discussing a contract extension that would prevent the fourth-year player from entering restricted free agency.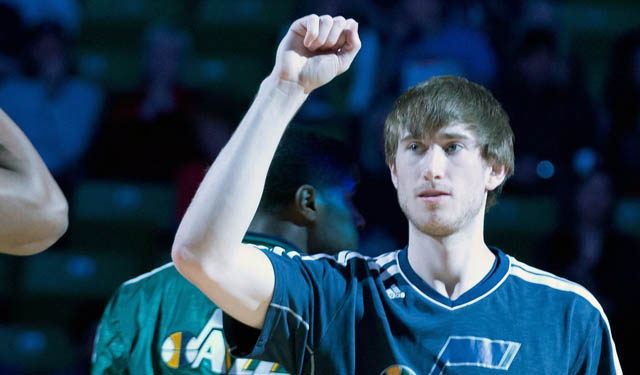 We have less than two months left before the 2010 draft class is no longer eligible for contract extensions and they likely approach the summer of 2014 in restricted free agency. For those players who do not reach a contract extension with their current teams, the 2013-14 season immediately becomes a contract year in which they have to convince their current squads to tender a qualifying offer to make them restricted free agents and then have this season's play get some team to offer up a big contract.
The Utah Jazz and Gordon Hayward may be moving toward avoiding that potential restricted free agency saga. The Jazz and Hayward's agent, Mark Bartelstein, are reportedly discussing a contract extension for the versatile forward that would likely keep him in Utah for the next four seasons following the 2013-14 campaign. From Zak Keefer at IndyStar.com:
Hayward and his agent, Mark Bartelstein, are currently in talks with the Jazz to extend his contract this summer. If no deal is reached, he'll become a restricted free agent next summer.

"It's crazy that this is already going to be my fourth year and we're already talking about that," Hayward said. "But I'm definitely happy in Utah and love playing there and would love to continue my career there."
Hayward is one of the most versatile small forwards in the NBA when it comes to scoring, rebounding, passing, and 3-point shooting, but considering he isn't a star name or a top player at his position, it makes setting the market for his services pretty difficult. There were five players in the NBA last season that averaged at least 14.0 points, 3.0 rebounds, 2.9 assists, and shot at least 40.0 percent from 3-point range. LeBron James, Kevin Durant, Stephen Curry, and O.J. Mayo all did it, as did Hayward (Al Horford also accomplished this but only attempted six 3-pointers on the season).
He's definitely not going to get James and Durant money, and even the contract Steph Curry got (four years, $44 million) seems quite ridiculous for Hayward. But his production and his potential to be one of the better versatile options at the small forward position (assuming he continues improving) could garner him a similar contract extension to the deal O.J. Mayo got with the Milwaukee Bucks ($8 million per season) this summer.
(H/T - ProBasketballTalk)
Show Comments
Hide Comments
The two best point guards in the East go at it in a series sure to be filled with drama.

Breaking down key matchups as the second season reaches the conference semifinal series

The second round of the 2017 NBA Playoffs tips off Sunday at 1 p.m. ET, with Game 1 of Cel...
The Spurs have homecourt advantage, and will host Game 1 Monday night at 9:30 p.m. ET

All-Star guard flew to Washington after Game 6 vs. Bulls to attend his sister's funeral Sa...

Some love for the Rockets over the Spurs, and at least one expert says the Cavs are going...