Report: Greg Monroe's agent tried to work several sign-and-trade deals
Greg Monroe is on the verge of signing the qualifying offer with the Detroit Pistons, after his agent reportedly tried to find several sign-and-trade deals.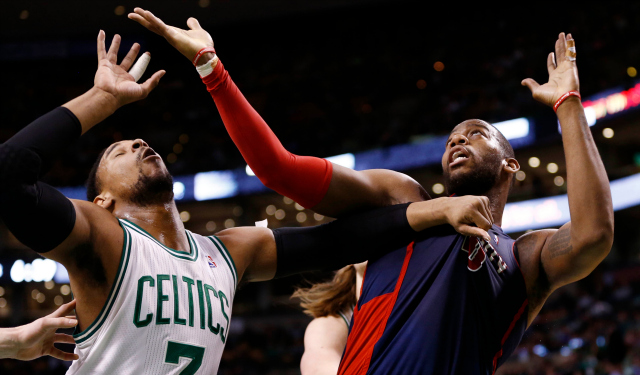 Offseason: Free Agency | Latest from Ken Berger | Rumors
Greg Monroe is about to go with the road less traveled in signing the one-year qualifying offer as a restricted free agent. After a quiet summer in which his restricted status kept many teams from tying up potential salary in offer sheets, Monroe is reportedly going to sign the one-year qualifying offer with the Detroit Pistons and risk long-term security for short-term freedom in his free agency. He'll play out the year and go into the summer of 2015 as an unrestricted free agent.
That didn't stop David Falk, Monroe's agent, from trying to get him to a different team. Michael Lee of The Washington Post tells us that Falk approached at least five teams, including the Blazers and the Thunder, in trying to work out a sign-and-trade. This comes out after Monroe denied ever receiving the reported offer from the Pistons of five years and $60 million.
The only leverage Monroe possesses is to take the qualifying offer and take control of his own destiny next year without the restrictions he faces now.

Monroe and his agent, David Falk, never sought an offer sheet from another team but pursued sign-and-trade proposals with at least five other teams, including Portland and Oklahoma City, according to person familiar with the discussions. Monroe denied receiving a reported five-year, $60 million offer – or anything close – from Pistons and would've been unlikely to accept either way.

Monroe doesn't have anything against Van Gundy but is uncertain if he has the patience to invest four or five more years in the Pistons. Next summer, Monroe might be able to go where he pleases without much competition. Kevin Love is likely to re-sign with Cleveland (once the Cavaliers consummate the expected trade with Minnesota) and Marc Gasol and LaMarcus Aldridge will be the only other quality big man available. Several teams will also have cap space under a steadily increasing ceiling that could mean more money for the 24-year-old Monroe.
Monroe finding his way to either the Thunder or the Blazers would've been very interesting. Assuming the Thunder would have kept Serge Ibaka in the trade, pairing those two in the frontcourt would've been an incredible complement to Kevin Durant and Russell Westbrook. Monroe's passing and rebounding abilities could be big weapons for the Thunder and he'd be able to give them a true low post scoring threat.
Putting him next to LaMarcus Aldridge would've been great for an already expectional offense in Portland. However, without a true defensive stopper at the rim, there could have been long-term issues with building a championship team with that combination inside, unless Aldridge took a more defense-centric role or Monroe improved dramatically on that end of the floor. 
Regardless of the reported specific situations, Falk and Monroe have clearly looked into getting the power forward out of Detroit. He doesn't fit next to Josh Smith and Andre Drummond is unlikely to be the odd man out. The Pistons risk losing Monroe in a year for nothing, and it could be hard to move him with his impending unrestricted free agency restricting the return Detroit gets in a deal.
Jared Sullinger wants back in the NBA; he knows his weight will play an important part

Cleveland is one of Rose's biggest suitors, and the Irving situation could lead to an even...

Five years later and Celtics fans continue to throw shade -- Allen later deleted the comme...
Irving has a desire to team up with Butler dating back to June

Apparently, Irving first asked to be traded in June in hopes of joining Jimmy Butler in Ch...

Despite Melo being a good trade piece for the Knicks on paper, he has his sights set on joining...