Report; Hawks interested in signing Greg Monroe in free agency
Atlanta could pursue big man restricted free agent this summer.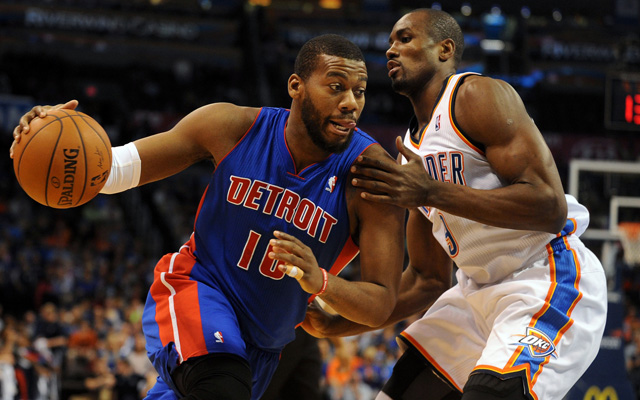 More NBA: Season Awards | Grades: East | Grades: West | Seasons in Review
ESPN reports that as the Atlanta Hawks hit the offseason on a relative high, having made the playoffs after losing their best player in Al Horfor to a season-ending shoulder injury, they have some interest in Pistons restricted free agent Greg Monroe.
There have been some recent rumbles on the personnel grapevine that the Hawks will lob themselves into the bidding for Detroit Pistons restricted free agent Greg Monroe.

The close ties between Monroe's agent, David Falk, and Falk's former star client Ferry make such rumbles inevitable.

Whether that chatter morphs into full-fledged courtship remains to be seen.
via Summer Scoop: Hawks' flight plan - Marc Stein Blog - ESPN.
The Josh Smith-Monroe-Andre Drummond frontcourt in Detroit was a total disaster, and with the Pistons having paid the big bucks for Smith and Drummond being the young stud, Monroe is the odd man out, having been floated in trade rumors for months. 
The Hawks will have cap room, but is Monroe what they need? They alrady have Paul Millsap, a strech four with size, and Al Horford, a skilled big man. Is adding another big-but-not-seven-foot power forward/center with skill a good idea? It's an intriguing idea, moving Millsap to a sixth man role and essentially being able to play Horford and Monroe in dual PF/C roles. Monroe is an underrated rebounder and would flourish in Mike Budenholzer's system.
Problem is, Monroe's expected to garner the max as a restricted free agent. Horford, Jeff Teague, and Monroe would absorb a huge amount of the tax for a team that still wouldn't be elite. It's an interesting idea, but might be hard to pull off. 
Show Comments
Hide Comments
The Cavs and Warriors have both swept their first-round opponents

Les Alexander appeared to complain to a referee in the middle of live play

Houston has a 3-1 lead. Here's how to watch the rest of the series
The playoffs are getting interesting

The series returns to Los Angeles for a pivotal Game 5

We'll be seeing this Westbrook face from Game 5 a lot