Report: Heat F Mike Miller ready for training camp after skipping back surgery
Miami Heat forward Mike Miller is ready for training camp this fall after years of back trouble.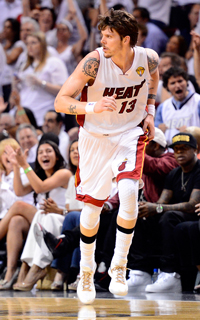 Mike Miller will be back in action for the Heat in 2012-13.
(Getty Images)
Hitting seven 3-pointers in a title-clinching game would have been a good way to go out, but Miami Heat forward Mike Miller has decided that he's back for more. More importantly, perhaps, he's decided that his back can handle it.
The Sun-Sentinel reports that Miller, 32, elected to skip offseason back surgery in lieu of regular treatment and that he feels ready to go for 2012-13 training camp.
"If it was up to me, personally, yes, I'd be ready," he said. "I feel good enough. It's going to be interesting once I get contact and stuff like that."

"It feels good. It's getting there," he said. "Obviously, I've got to get my legs back. Stationary shooting feels fantastic, really. The break probably helped that. But moving and shooting, movement with your legs, and conditioning has been a little bit tough."
Let's not forget, before Miller's Game 5 explosion to sink the Oklahoma City Thunder and to help deliver LeBron James his first ring, there were plenty of times last season where he walked around the court like a man twice his age. Indeed, for the second year in a row, Miller put up relatively paltry numbers, 6.1 points and 3.3 rebounds in 19.3 minutes, while missing more than a third of the regular season due to injury. 
As it turned out, his regular availability didn't matter all that much. He was there when it counted, in the Finals, and the Heat had enough to sneak past the Boston Celtics on their way to the title. 
That goes doubly true for this season. The Heat didn't need to use their amnesty clause on Miller because they had no trouble adding quality depth to their perimeter at an affordable price. Bring in Ray Allen and Rashard Lewis for less than five million per year and you can afford to keep around a shooting specialist like Miller, even if he can only give you half a season. As long as he's sharp in May and June, the rest doesn't really matter.
Show Comments
Hide Comments
Utah couldn't clinch at home, and the Clippers live another day

The Celtics coach appeared to be upset when the chants broke out

Cleveland will host Toronto on Monday
Boston will host Washington on Sunday

Nothing can happen until Cleveland's season is over, however