Report: Hill has "Kobe" procedure on knee, targeted by Lakers, Knicks, more
Grant Hill reportedly had the experimental knee procedure made famous by Kobe Bryant and is drawing interest on the open market.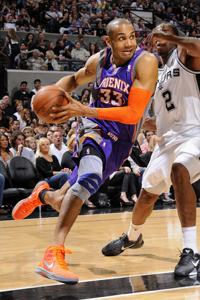 Grant Hill is 40. He's also awesome.
(Getty Images)
Grant Hill turns 40 in October. 
Four-Oh. 
And he's not ready to hang them up. Not only that, but Hill has some new legs, apparently, thanks to the procedure that is sweeping athletes with knee conditions. 
ESPN reports that Grant Hill has had the platelet-enrichment procedure made famous by Kobe Bryant, experimental and performed on Bryant in Germany. As a result, ESPN reports the Lakers, Knicks, Suns, and Raptors have interest in signing the former Piston, Magic, and Sun. 
Hill struggled with injuries for almost the entirety of his career, robbing him of his prime, until he arrived in the desert, where Phoenix's renown training staff not only kept him in good condition, but helped him to flourish. He was very productive for the Suns, averaging 13 points and 5 rebounds per 36 last season for Phoenix and shooting 45 percent from the field. 
He's a quality locker room leader who brings no baggage with him and works hard. Yeah, he's 40, but he's done the work to extend his career after his body betrayed him early. Any of those teams would be better with him. 
Plus, old jokes! Everyone loves those, right?
Show Comments
Hide Comments
This appears to be a move that will give Dallas some cap flexibility

Russell Westbrook and/or James Harden won't feel alone in being snubbed

Here's how to watch the NBA Awards Show, a list of the nominees, and what awards are up for...
Milos Teodosic may be 30 but there are rumors he's heading to the NBA

Dirk Nowitzki had some fun with Harrison Barnes as he approaches 20 seasons in the NBA

Thunder fans used the term 'cupcake' in reference to Durant after he left OKC in free agen...