Report: Hiring Scott Brooks would help Knicks lure Kevin Durant
New York's coaching search is going to be interesting.
• 2 min read
The New York Knicks have a coaching search to do, and it'll be one of the most fascinating ones in a while. Knicks president Phil Jackson typically doesn't hire people outside of his circle, but there are several high-profile candidates without a job. New York will try to attract free agents in the next two summers, and the coaching hire could affect those pitches in a major way. The organization reportedly has Oklahoma City Thunder star Russell Westbrook's attention more than a year before he's on the market, so why not think about Kevin Durant, too?
Coaches such as Tom Thibodeau, Mark Jackson, Jeff Van Gundy, Jeff Hornacek, David Blatt and Scott Brooks are available. None of these coaches are triangle disciples, but they've all had success in the NBA. And each would present an interesting candidacy for the Knicks' opening.

Brooks is a name to think about, for one reason: The Knicks have been informed that their chances of landing Kevin Durant this summer would be influenced by hiring Brooks, according to league sources.

New York faces long odds to land Durant to begin with. And their chances took a hit after Derek Fisher was fired, league sources say. As noted here previously, Fisher was going to be a factor in Durant's free agency this summer. But hiring Brooks could get Durant's attention.

Of course, it seems unlikely that Jackson would choose a coach based on the idea that Durant might want to play in New York. Also, it's important to note that Jackson has no prior relationship with Brooks and that the ex-Oklahoma City coach doesn't run the triangle offense.
Some thoughts:
1) Scott Brooks, who was fired by the Thunder at the end of last season, played for the Knicks under Jeff Van Gundy in 1996-97, and Tom Thibodeau was on Van Gundy's staff. It's easy to write all of them off, as Jackson seems to want a coach who will run the triangle or another equal-opportunity system. With Durant out there, though, perhaps they will not completely dismiss Brooks.
2) Hiring Brooks obviously wouldn't guarantee Durant would come to New York, and the barrage of recent coaching firings should reinforce how important it is that the front office and the coaching staff are on the same page. Durant, though, is the rare player who can change a franchise in an instant. If the Knicks think they can influence his decision in any way, you have to imagine they would at least discuss it.
3) It's interesting that Oklahoma City went a different way. Rather than play it safe with Brooks, the Thunder replaced him with Billy Donovan and bet on him improving the team in Durant's contract year. You could call that a risky move and criticize the job Donovan has done so far, but in general that's the right sort of thinking. If you're a general manager and you believe you've found the right person, hire him. That confidence usually looks good. Desperation doesn't.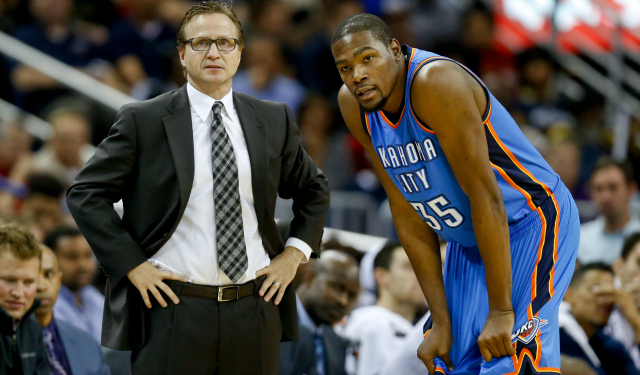 Show Comments
Hide Comments
The reserve guard has missed the last 11 games for the Clippers

Sounds like the Knicks need to figure out what's going on with their star forward

The future Hall of Famer opened up about his post-NBA life
Boston's star guard addressed the media for the first time since his sister's death

What does a first-round sweep mean for PG13's future in Indiana?

Celtics reverse course in Chicago; Pacers head home