Report: Hornets held exploratory talks with Rockets for Dwight Howard
Charlotte made an effort to land the former All-Star, but won't give up enough assets to get a deal done.
Dwight Howard is very clearly on the block, but Daryl Morey is having a hard time finding a deal to fit his liking. Talks have yet to intensify, and no real list of suitors has come out. However, ESPN did report one team that held exploratory talks with Houston, the Charlotte Hornets: 
Sources told ESPN.com that the Hornets and Rockets have held exploratory talks on a potential Howard deal since Houston made him available last week. But one source close to the talks expressed pessimism Tuesday that the sides will be able to find common ground on a deal.
Source: Charlotte Hornets, Houston Rockets have exploratory talks on Dwight Howard deal. 
Yahoo Sports, however, put the brakes on the talks pretty fast. 
Sources: Charlotte's shown no interest in cashing assets for Dwight Howard. Clifford loved coaching Howard in Orlando, but no path to deal.

— Adrian Wojnarowski (@WojVerticalNBA) February 16, 2016
For Charlotte, it's the second deal they've been mentioned in on Tuesday following the trade completed earlier that sent P.J. Hairston to Memphis and Brian Roberts to Miami while bringing in Courtney Lee. The Hornets are pretty clearly trying to make major moves to not only be a playoff team this year, but to be a real force in the East. 
However, to get Howard, you'd have to give up so many assets the Hornets wouldn't have enough left to take advantage of having Howard in the first place, and there's also the matter of Howard's impending free agency. Keeping Howard in Charlotte might be difficult in a summer with so many big market teams having max money. 
However, it does show how aggressive the Hornets are in trying to improve their team, beyond the very sound Courtney Lee deal.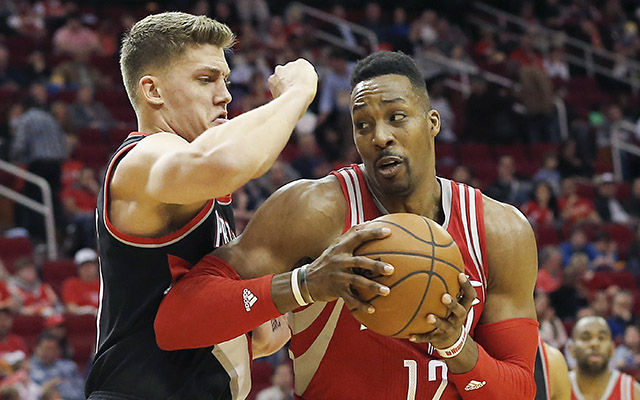 Show Comments
Hide Comments
How to watch the first-round series between San Antonio and Memphis

The playoffs are getting interesting

The Cavs and Warriors have both swept their first-round opponents
Les Alexander appeared to complain to a referee in the middle of live play

Houston has a 3-1 lead. Here's how to watch the rest of the series

The series returns to Los Angeles for a pivotal Game 5