Report: Hornets still exploring trading Eric Gordon in offseason
Hornets are reportedly considering trading Eric Gordon in the offseason.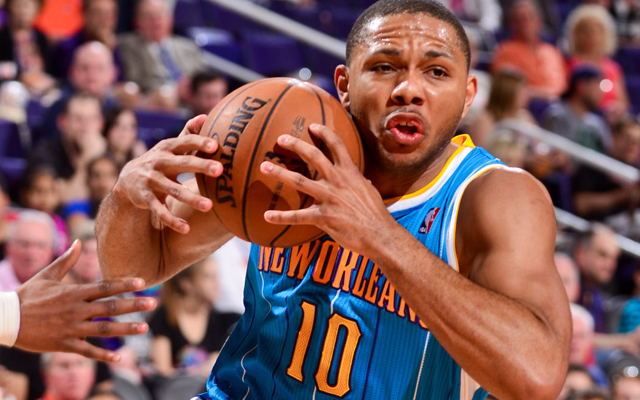 After Eric Gordon got into a shouting match with his head coach and was benched over the weekend, the New Orleans Times-Picayune reports that the Hornets are still looking at trading the disgruntled shooting guard:
The Hornets were unable to pull off a trade involving Gordon before the February trade deadline, but the franchise is still likely to remain open to trading him after this season ends, according to sources Saturday.
via New Orleans Hornets guard Eric Gordon likely to return to starting lineup Sunday against Phoenix Suns | NOLA.com.
The Hornets' relationship with Gordon has been rocky from the start. They demanded him back in the Chris Paul trade, then he was out for the season with a knee injury. Then in the offseason, as a restricted free agent, he signed with the Suns, saying that his "heart" was there now and that the Hornets shouldn't match. They did. 
Then this year started and he had knee issues in preseason, which lingered into the season. Then Monty Williams made some comments publicly about Gordon, including about how his MRI showed no structural damage.  Gordon did not request a rade throughout the season. When he returned, he was intermittently in and out of the lineup. 
At this point, a lot of it seems to point to the hyper-masculine, "rub some dirt in it" approach of Monty Williams and how that clashes with Gordon, on top of Gordon's dissastisfaction with playing for a rebuilding club, despite the bright future for New Orleans. 
If they dangled him in trade waters, the Hornets might have a hard time getting good return, considering the knee issues and his attitude. It's a hard situation, and one that bears watching in the future. 
Show Comments
Hide Comments
Our experts predict whether the Jazz can compete with Golden State, along with the rest of...

Breaking down key matchups as the second season reaches the conference semifinal series

Pierce's 19-season run in the NBA ended Sunday as the Clippers bowed out of the playoffs
Utah overcame its relative lack of experience with a balanced, deep and versatile roster

Our experts predict every series in the 2017 NBA playoffs

The series opener between Houston and San Antonio tips on Monday night